The Separators Website Revamp: An Inbound Website Love Story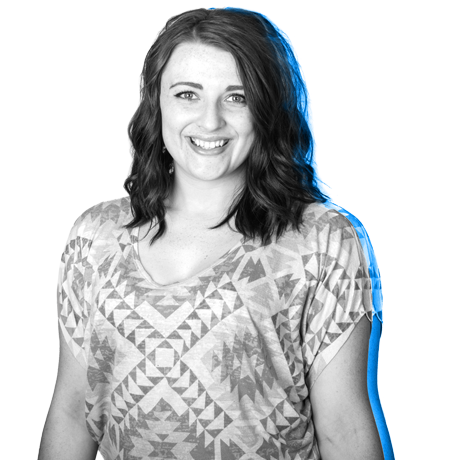 Posted on Wed, Mar 28, 2018
by Clare Richards
Not Your Average Centrifuge Provider
Centrifuges. Ever heard of them? Well, let me tell you all about them. They're massive pieces of equipment used in many industries - from dairy to bio-pharm - to help separate fluids into different densities. They are both incredibly important and incredibly expensive.

Separators Inc. does something that no one else in the industry can claim. They remanufacture centrifuges. I'm not talking about re-selling a used centrifuge. I'm talking about disassembling, cleaning, repairing, and replacing the entire machine so that it's in tip-top shape for its new owner. Here's why that's a big deal. I mentioned these things are expensive, right? We're talking an average of $250,000 brand new. That's a price point that is out of the question for many small businesses or start ups. Separators makes it possible to get equipment to these companies that's as good as new and will stand the test of time for a far reduced price.
Separators is also known for their excellent service. Unlike many of their competitors, Separators provides thorough, 5-star service to their customers throughout the year. Sometimes this involves flying service reps all over the country to make sure things are in perfect condition. Why? Well if one of these bad boys isn't working perfectly, it could potentially kill someone with vicious flying metal. Fatal. So yeah, service is important.
If you want the quick version of this story, check out this video from our Separators contact, Quenton Lind, VP of Sales & Marketing. Warning: Contains spoilers!
The Challenge
Okay, so remember all that stuff about Separators being unique in their industry and providing world-class service? Here's the thing, you wouldn't have guessed that based off their old website. True, theirs is not a cutting-edge industry when it comes to online marketing. In fact, their competitors all fall in the mid-90s range for website style and functionality. The 1990s! But Separators is an innovative company (we love them for that!). They weren't looking to slowly adapt like their competitors. They wanted not only to stand apart from their competitors, but to be a million miles ahead of them.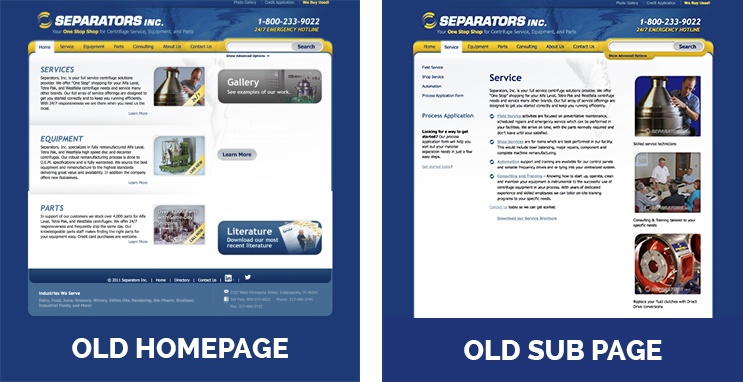 Enter Leighton Interactive. You might think creating a website for a company that sells centrifuges would be a less than exciting project for us. WRONG. After learning about how Separators is at the forefront of the industry through their thought leadership, our team became steadfast believers. Sure, we didn't understand the industry at first (talk about technical!), but we were eager to create a compelling website that would generate leads and help Separators shine like the star they are within their industry.
Our metric for success? Increase website visits and conversions.

Their Needs
Separators was looking for a new website that would speak to their personas. They represent a technical, data-driven background, so it had to be more than beautiful design. It had to work. The content had to be intelligently crafted for their target persona and the website had to offer conversion opportunities that would attract that specific user. Separators wanted their website to be user-centric. Here's what we were working with:
A strict budget and timeline - ideate, design, develop, and launch within 60 days

Limited visual resources - especially a lack of photos

Highly technical information

Five areas of business - Centrifuges and Service are their bread and butter, but they also provide parts, consulting, and technology services
It was also a top priority to craft a website that was a valuable tool for their sales team. A website that not only converted online, but something they could point to as a resource. They wanted more from their website than an online brochure. They wanted a website the truly represented their innovative company and culture.


The Solution
Tasked with creating a kickass website in a short period of time, we got right to work. Here's what happened:
Initial Data Digging & Research
We believe that you shouldn't start from nothing if you can help it. While we were still working through the contract and scope of work, we had some metric benchmarks put into place (think: Google Analytics, HotJar, HubSpot Analytics etc). That way, once the contract was initiated, we could get started. We had a couple weeks' worth of data on the website to begin assessing how users were using the current website. We used this as a reference point throughout the project. Data. I'm telling you, it's the entire difference!

The Discovery Session
We believe in partnerships. To obtain a result that our client could be happy with, we knew we had to start with a genuine conversation. Who was Separators? Why did they exist? What did they bring to their clients? What were their long-term goals? What were their website dreams? We had to establish this info before we could begin the website building process.
Personas Development
How can a truly effective conversion machine be crafted if we don't know who we're trying to convert?Personas were an incredibly important part of this website build process. They helped us create valuable content and tools that in turn helped our intended user.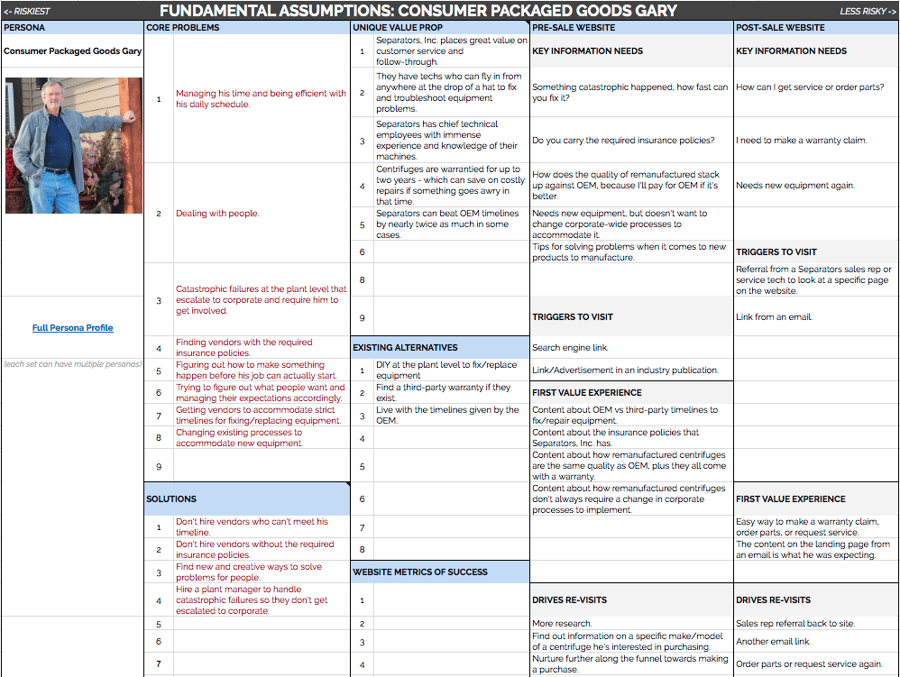 The Brainstorm Meeting
Once we defined the website goals and target persona, we facilitated a brainstorm session to uncover their website needs and wishes. We wanted to ensure the website was crafted to achieve the goals set. Between our team, their team, and a bunch of sticky notes, we generated well over 100 ideas to get the website rolling.
Wishlist Analysis
You can't do everything all at once. We know this. Once we'd generated a plethora of amazing ideas, we had to drill it down to something that was both achievable and realistic. We did this by using the P.I.E. analysis methodology. It's a way to assess each idea based on:
Potential:
What potential does the item have to help achieve the website goal?
ImportanCE:
How important is the item to both the client and based on our internal knowledge?
Ease:
How long will it take to build out the item?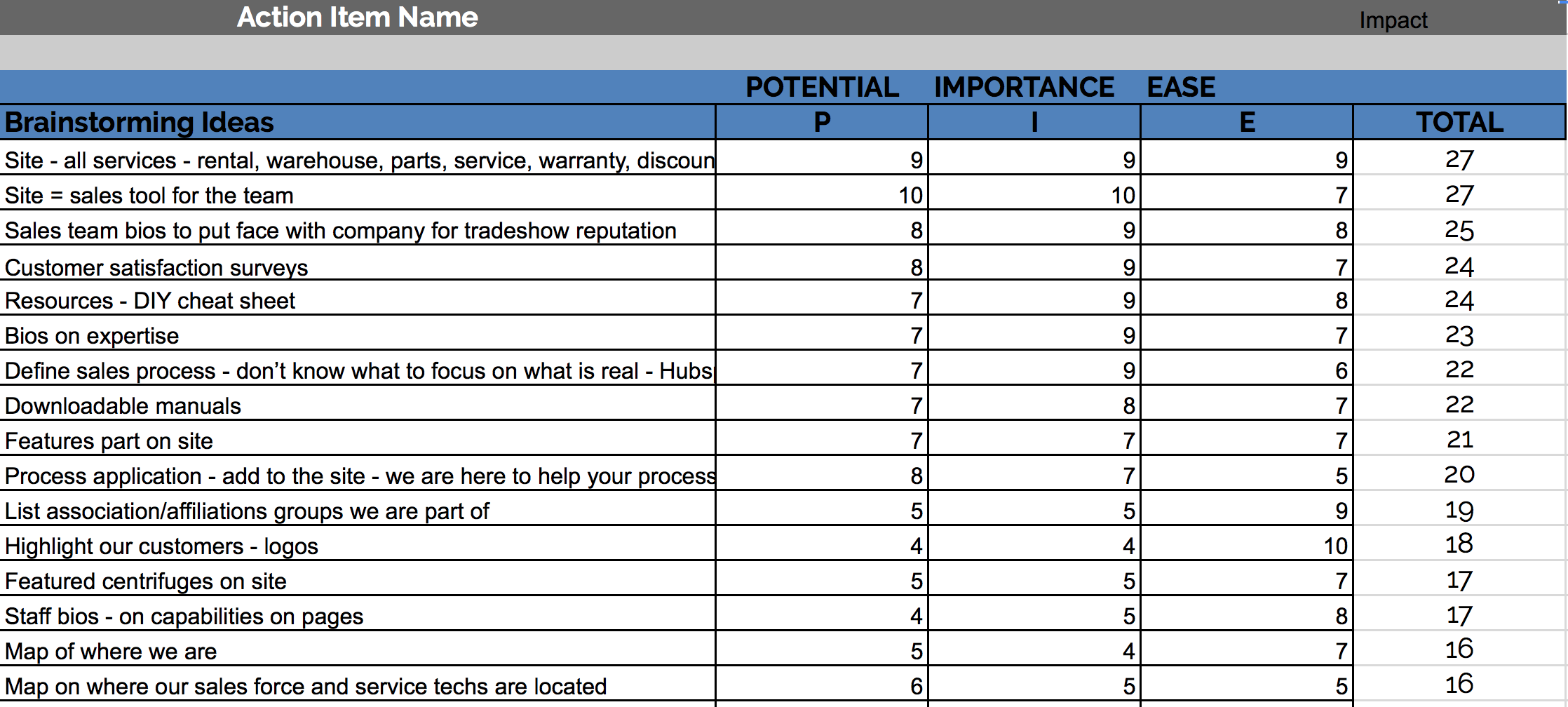 Once we rated each item, we were able to build out the website strategy.

KTR + Site Map
Have you heard of Search Engine Optimization? Yeah, it's a pretty big deal. Before we make sitemap recommendations, we always conduct Key Term Research to identify the best SEO solution for the website navigation. What should pages be named? Are we missing some highly searched content?
In addition, the target persona plays a huge part in defining the site map. What matters to them? How can we get them through their buyer's journey in a way that makes sense to them?
Lastly, we identified pages based on priority. This dictated which pages we spent the most time on, versus which pages could be moved over for a quick launch.


High Impact Pages:
Custom graphics, custom content, and custom template
New Pages:
Completely new content, custom graphics if needed, custom template if needed
Average Pages:
Migrate existing content to the new template and optimize
Move Over Pages:
Migrate existing content to the new template and leave alone
By prioritizing pages in this way, we're able to get a new website launched within a short period of time without being paralyzed by the 'what-ifs' and internal team biases.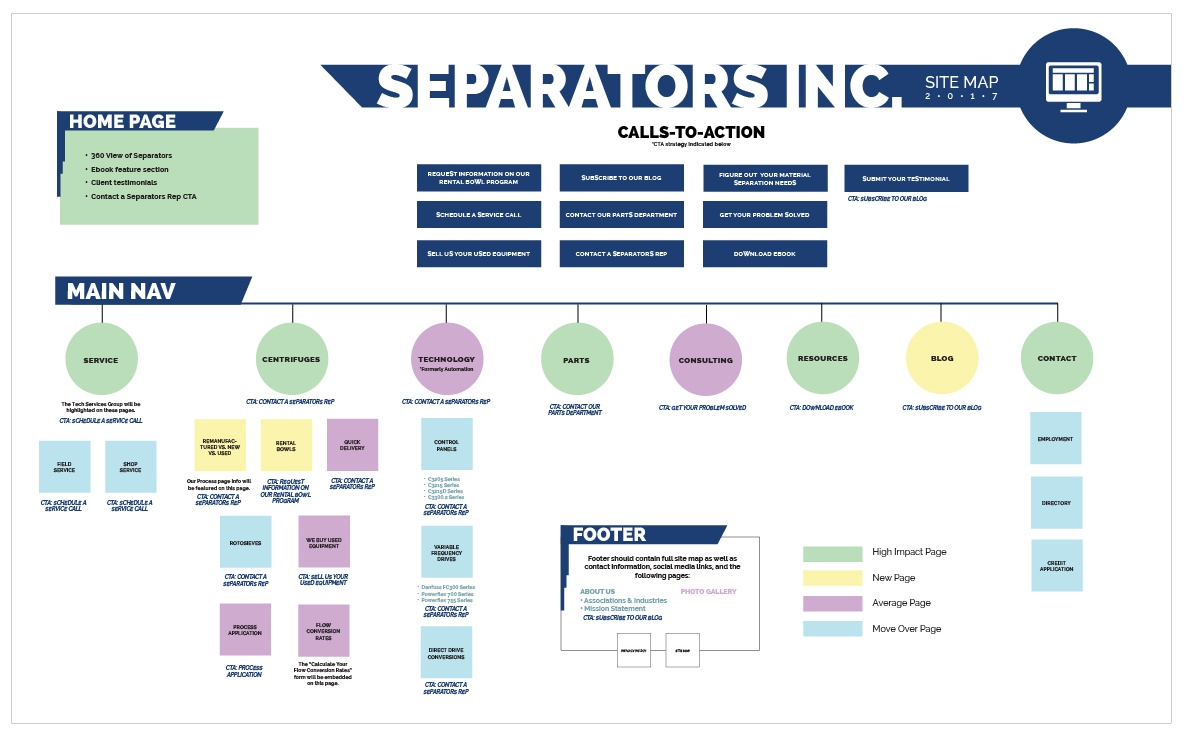 Sketches
Okay, admittedly we just went through a lot of conceptual and technical mumbo jumbo. This is where my design mind REALLY gets pumped. We took all of that information and we began to outline what this bad boy is going to look like.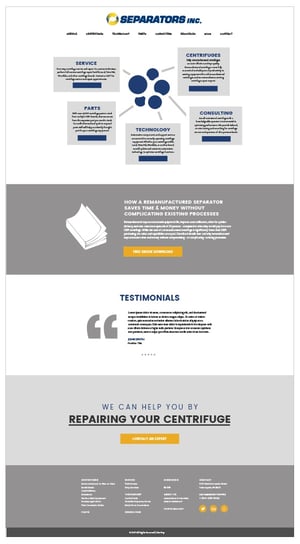 Wireframes
After a couple dozen sketches, we drilled down on what this framework would look like. This helps our internal team visualize the website, as well as the client. This was our opportunity to get the client feedback before jumping fully into design. In addition, our content team writes the content based in part on the wireframes. So yes - it's pretty important.

Content Creation
Content is king, right? This was a vital part of our process. Armed with persona research, market data, industry knowledge, client insight and interviews, SEO/KTR information, and wireframes, our content team went wild. And when I say wild, what I really mean is technical as all get out. Here's where I get to brag on our team for a minute. Remember that first paragraph about centrifuges? And how complex this industry is? I'm not kidding. It is technical. And the details really matter.
We handle websites 100% internally. That means that one of our own (high-five Amber) got into the nitty-gritty with the industry and kicked out some solid, optimized content. Does that make you sweat? Well it didn't scare Amber. She's basically a content-writing machine (in a good way).


Website Designs
Personally, this is my favorite part of the entire process. We'd gone through the process of data-gathering, research, brainstorming, sketching, wireframing, and writing. This is where we brought all of that together in a beautiful, functional design. This is where the project came to life, and the client got their first peek at what this project was really all about. And damn, was it awesome. A lot of marketing agencies love the glamorous stuff. I'm talking consumer packaged goods and boutique shops. At Leighton Interactive, we think anything can be glamorous. Even centrifuges. Just because the website is technical and focused on a specific persona, doesn't mean it can't be gorgeous.
Some of the challenges we faced with the design were the lack of imagery and graphics. There was a strong desire to represent Separators as a company and culture, but not a lot of quality imagery to support that desire. In the end, we found a perfect balance of using the images they did have and using graphical elements that were reminiscent of the industry. Think: machine specs, rotating cylindrical graphics, and minimalistic icons.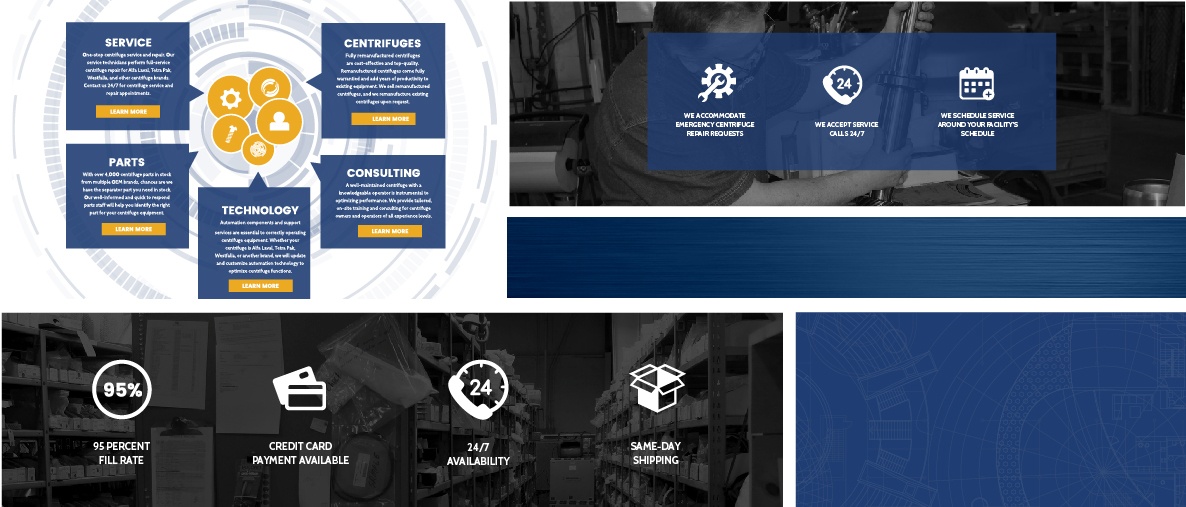 Website Development & Launch
Once the client approved the design (after falling deeply in love with it), we moved into the development and launch phase. This is the part where our wonderfully geeky developers talk about PHP, jQuery, and other nonsensical things. It's also the part where we get to build out the website in HubSpot's custom CMS called the HubSpot COS. Flexible staging, seamless integration with HubSpot's marketing software, intuitive user interface. What's not to love? We strongly advocated for the website to be built on the COS because we knew it would be the best long-term solution for the client, and it would allow us to launch the website quickly and efficiently.
THE RESULTS
Well, now that you have a detailed outline of our super-secret website building recipe, let's talk about the most important part of this project: the results.
We launched the new website in late March, 2017. And did it ever take off. Before we get into the data, you should take a minute to check out the differences between the old website and the new:

When we started this journey with Separators, they had two goals: Increase website visits and conversions. And the website delivered. Before the new design, they were getting 400-700 visits per month. After the launch, they received an average of 35 leads per month and 700-1,100 visits per month. Here is a comparison from one month prior to site launch and one month post:

In total, here's what we've seen over the last 12 months:
33% increase in Users

32% increase in New Users

38% increase in Sessions

4% increase in Sessions per user

19% increase in Pageviews

Nearly 10,000 visits (compared to their average of 6,000 the year prior)

436 leads

17 Customers

$161,100 revenue generated

Their HubSpot dashboard looks pretty dapper since the launch: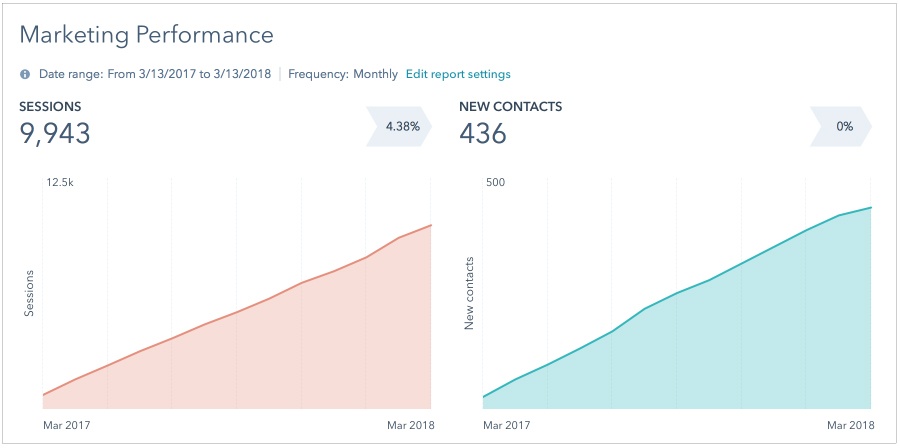 The site did experience decreases in Pages Per Session, Average Session Duration, and Bounce Rate in the period after, but that's likely because they didn't need to spend as much time trying to find the information they were looking for.
In addition, all of their landing pages now have exceptional conversion rates, 10 percent - 32 percent. That's a pretty big improvement especially when you consider they hardly had any opportunities to convert on their previous website. They also went from ranking for 260 organic terms to now ranking for over 310 terms.
HOW THE STORY ENDS
Well, it doesn't. Our partnership with Separators continues to thrive. We've moved from a website project into several inbound marketing campaigns. We've built offers, written blogs, and continuously improved their website in the year since our story began.
As the story continues, and as we move forward together, it all comes back to the same thing. Our passion for our partners. Sure, centrifuges are complicated, and the industry is technical. But we love Separators. Their company, their culture. We rate them five stars. We were proud to create a website that encapsulates who they are and why they exist.
So we raise our glasses to our client. Here's to many more years of rising numbers, big fat stats, and a strong partnership. Cheers!
Didn't get a chance to watch the video yet? You should. It's awesome.
Topics: Inbound Marketing | Impact Award Submissions | Website