We're Hiring: A Guide to Writing a Job Post on Social Media
Author \ Dominique Bohler
11.06.19
---

Trying to find an employee that will not only fit with the job you are hiring for but also your company culture can be a challenge. It used to be that you could run an ad in the newspaper and you'd get a vast range of job applicants, some that were highly qualified and some that were not.
While newspaper ads did the job, you weren't always guaranteed success. And in today's day and age, most people have ditched the newspapers for the internet. With all of the online resources for finding a job - Monster, Indeed, Craigslist, etc. - how do you make your job listing stand out in a sea of endless possibilities?
We Are Hiring Content
Whether you're urgently hiring or need seasonal work, online recruiting needs some serious attention, and there are a few standards you'll want to keep in mind as you begin to plan how you'll promote your open position. Throughout this blog, you'll see some social media job ad examples, but these standards remain true to any recruitment content you create.
Be Specific
Getting your point across right away, and highlighting the most important information in a job post is critical since the typical reader will only read 20 percent of content, and job seekers spend an average of just 30 seconds on each job post. You should keep your content very intentional and have the full job description live on your website, while the social post should be key takeaways only.

Keep it Simple
Don't overcomplicate the job listing by throwing in a bunch of corporate jargon and big words. You don't have to dumb down your post, but if you're throwing in too many acronyms or language specific to your company, your prospect could struggle to know if they are qualified. These nine tips for online recruitment can help you simplify the process and assess how companies are using the internet to find job seekers.

Make it Memorable
Focus on the exciting events/activities your office hosts or attends every year. If there are fun or unique perks to working at your company, like a gym for employee use, free coffee, opportunities for professional growth, or company outings, highlight these to get people excited about working for your company. Showing off your company culture is bound to draw in the attention of like-minded candidates who would fit in perfectly with your company.
Make It Easy
Always provide a link that takes applicants directly to the online application. If the content you're creating can't utilize a link, make sure to provide a "next-step" for anyone interested in applying, such as a contact email or phone number.
(For a couple of bonus tips on how to elevate your online recruiting tactics, check out this blog)
We're Hiring Social Media Post Examples
Yes, you can do a standard social media post that says, "We're hiring! Check out [insert job title] and see what it's like to work at [insert company name] today." But that's not going to capture people's attention — especially on social media. Think about all of the content and videos people are bombarded with on social media every hour... How will your company break through the clutter to find the right candidate?
Below are a few examples that made me stop in my tracks and I hope they help get your creative juices flowing. The key is to pick a creative concept and imagery that aligns with your brand, company core values, and audience you're trying to attract!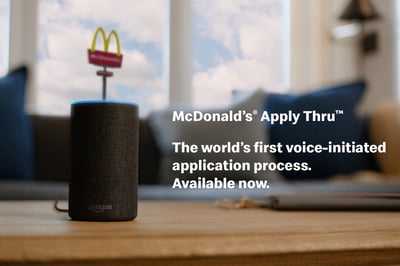 Remember that part about making it easy to apply? McDonald's is taking that to a new level by giving people the chance to apply through their Google Assistants or Alexa devices.
According to AdAge, "The process begins with the user saying "Alexa, help me get a job at McDonald's." On Google, initially, the wording is "OK Google, talk to McDonald's Apply Thru"; eventually it will work when the user says "OK Google, help me get a job at McDonald's." And what's more convenient than applying for a job without having to crack open your computer or and fill out a form? Not much.
So, think about your ideal candidate and the things they deal with or manage on a day-to-day basis... Do they have kids kicking and screaming on their two-hour commute home from work? Are they chronic lunch-skippers because their day is jam-packed with meetings? How can your job application alleviate their pains or acknowledge them in your messaging? That's how you grab the attention of your next stellar employee.
No, they aren't trying to hire pyromaniacs. Instead, Burger King took a bold approach by showcasing their own stores up in flames to showcase their "flame-grilled" commitment, which won them a Cannes Lions Grand Prix. But they didn't stop there. The image above and many others used to recruit new employees showcased images from Spain's fire festival and other individuals daring to play with fire.
The hook? If you can stand the heat and play well with fire, they want you on their team. Their visual representation of "flame grilling since 1954" was definitely a risky approach, but one didn't go unnoticed.
Heineken has just twelve questions to ask you, but you only have five seconds to answer each one. The purpose? To get to know you better. What do you get if you pass? A chance to learn a little more about yourself and take a peek at Heineken's jobs on LinkedIn.
The interactive interview uses video and a host with a Heineken personality to walk you through each question — he challenges you to think differently and make quick decisions. He's also there to inspire you and help you through the interview journey. Why did this work? Because it's different. I've yet to see any other interactive application processes that delight the users by telling them a little bit more about themselves while qualifying them for a specific job opening.
Facebook Recruiting
So, what happens if you don't have the same marketing or HR budget that the brands above have? You're not alone. In fact, most companies can't afford to pull off a new recruiting site or multiple highly-produced video ads. But, you can still create recruitment posts that meet best practices and stand out from the rest.
Enter Facebook, which has recently entered the world of recruitment and can help make filling your next job a piece of cake. Keep reading to find out how you can use Facebook for a job posting and the best way to promote that job posting in a more affordable creative concept.
We're Hiring Facebook Post Template
At the most basic level, what's needed for your "we're hiring" Facebook post? You'll need copy, creative assets, and a link to the job description on your website. In addition to the recommendations below, you should be specific, keep it simple, be memorable, and make it easy to apply.
Facebook post copy best practices for hiring:
Use one sentence if possible (An

AdEspresso survey

found 16 words or less resonated the most)

Use bullet points or emojis if you need more than one sentence to explain your job opening

Consider highlighting any workplace awards your company has won

Use words that create immediacy like, "today," "now," or "this week"

Have a clear and direct call-to-action

Ensure your copy directly relates to your creative (image or video)
Facebook post Creative best practices for hiring:
If you've ever been on any social media platform you probably already know that images, gifs, and videos are everywhere. Don't spend time creating a fantastic post and forget to include an image to accompany it. If you can avoid using a stock photo, do it. Take a picture of the office space, coworkers in fun settings, and perks of the job, and use these instead. Facebook also recommends using a high-resolution photo where the focal point is not in the center, but is instead, closer to one of the edges.
How to Post a Job on Facebook
Watch out LinkedIn, there's a new recruiter in town. According to Facebook, the updated Facebook jobs dashboard has been around since 2018 when they "expanded the ability to apply to jobs directly on Facebook to more than 40 countries." The company wanted to offer local businesses the opportunity to recruit easier and get in front of the one in four people who use Facebook to find a job. Needless to say, finding candidates on social media and posting a job on Facebook just got a lot easier. Simply follow these steps and get your job description in front of even more people.
Step 1: Log in to Facebook
Step 2: Make sure you have access to your company Facebook page
Step 3: Go to https://www.facebook.com/jobs/
Step 4: Click on the green button in the top right labeled "+ Create Job"
Step 5: Select your company page and fill out the form fields
After completing these steps, users will be able to conduct a Facebook job search and use different sets of criteria like location, job type, and category to find your job and others that fit their needs.

LinkedIn Recruiting
LinkedIn is the mecca of recruitment, there's no doubt about that. So, if you aren't using it to promote your new job listing or share it with the world, it's time to start. According to LinkedIn, over 75% of people who recently changed jobs used LinkedIn to inform their career decision.
Job applicants are seeing the value in it, but so are employers. LinkedIn also reported that new employees sourced through LinkedIn are 40% less likely to leave the company within the first six months. So not only can you use LinkedIn to learn more about your applicant's professional history, you can rest assured that candidates who come through this platform are probably in it for the long haul.
So, how do you get started? The first step is to create a LinkedIn job description.
LinkedIn Job Description
You might think that a LinkedIn job description needs to be professional and tactical, but that doesn't mean your social post has to be mundane. Create a LinkedIn post that is "out-of-the-box," and represents your job description in a way that leaves a lasting impression on potential candidates.
How to recruit on LinkedIn
Use your company's LinkedIn account to share posts regarding your open positions, and to highlight your culture and core values. Check out this blog to see some of the new LinkedIn tools that were just launched for page admins to keep employees informed on company updates and showcase the stories, wins, laughs, and challenges that your people and clients overcome.
As 2020 approaches, people are going to continue to have even more opportunities to share their experiences and thoughts online — which is something your brand and company can utilize to tell the story behind who you are and what you stand for. Use this to your advantage on LinkedIn and you'll recruit people who fit seamlessly into the environment you've worked so hard to build.
If you need help with online recruitment or want an example of it in action, check out the huge impact inbound marketing had on this company's recruitment efforts. Follow these tips next time your company is hiring. You'll see a much bigger response from potential candidates on social media.
Give a little.
Get a lot.
We regularly share insights on how we approach marketing. Get on the list.