7 Places You Should Be Promoting Your Manufacturing Job Openings
Author \ Jennifer Lawrence
05.20.21
---

Promote Where it Counts
Once you have a firm grasp on the audience you're trying to reach, as well as solid content around Careers and specific positions, you can begin the process of distribution. Distributing career openings is perhaps the most experimental phase of the recruitment process. We strongly encourage you to think of this phase as an iterative process. Recruitment tactics can be expensive and time consuming. The best approach is to test different tactics, measure results, dump ineffective strategies, and go all in on effective ones. Here are some top recruitment tactics:

1. Job Boards
Leveraging job boards such as LinkedIn Careers, ZipRecruiter, and Indeed are an important part of a well-rounded recruitment process. The amount you spend within each platform should be based on historical data in terms of candidate quality. Don't have historical data? Start collecting data with your first posting, noting key elements such as number of qualified candidates, number of individuals advanced to the interview process, number of offers extended and accepted. Want a list of job boards to consider? Get it here. Don't forget about local job boards. They often offer unique opportunities through local channels. A good example of a local job board is the Greater St. Cloud Jobspot.

2. Social Media
Share positions on your social media feeds and encourage employees to share with their networks. Be sure to share on both your primary feed, as well as in your story (relevant for Facebook and Instagram). Boosting specific posts will also result in a broader reach.
There are specific actions you can take on most social channels to promote open positions. For example, Facebook allows you to add a Jobs tab to your company page, which links out your open positions. LinkedIn also allows you to post job positions.

3. Paid Media
Paid media plays a big role in how visible your company and specific positions are to an interested candidate. The world of paid media is deep and complex, but here are the most common paid media avenues:
Paid search, often called PPC (Pay Per Click), gives companies the ability to feature their links at the top of search results. This article does a good job summarizing the elements of paid search.
Display ads are visual ads you see while browsing various websites. These are effective for general employer branding, and can sometimes be effective for specific position recruiting (although it is more rare). More info on that here.
Social paid media refers to the promotion of specific messages and visuals on the most popular social media platforms. Before investing in paid advertising on social media platforms, it's critical to know if your target audience is actually on that platform. This is hopefully something you uncover in the persona exercise.

4. Local strategy and traditional media
When it comes to a local recruitment strategy, traditional media can be highly effective. This might include things like billboards, radio ads, and mailers. Traditional media takes a broad stroke approach to attracting candidates. This casts the net wide, but can also be frustrating as it lacks the ability to track results and hone in on what works
Another downside is that local traditional media focuses on attracting candidates from the local market. This often puts you in a position of recruiting employees away from other local manufacturers. This is especially prevalent in smaller communities. It can be a frustrating experience to collectively draw from the same pool. Many companies would prefer, instead, to target candidates outside of the local market.

5. Community Partners
Leveraging local partnerships is a crucial tactic in filling your candidate pipeline. Community partners could include your region's economic development center (like the Greater St. Cloud Development Corporation). It could also include local colleges, universities, and high schools. It's important to keep in mind events and programs that educational institutions host to help connect their students to future employers. By developing strong relationships with your local community resources, you will get a front row seat to these opportunities.
According to our recent survey, 73.7% of employers indicated that they work with local schools and organizations to create a candidate pipeline.
Most of these partnerships were with local universities, colleges, and high schools, but some cited faith-based organizations, programs like Junior Achievement, and events like EPIC.

6. Employee-driven recruitment
An incredibly powerful, and often underutilized, resource for recruitment is your current employees. They are often connected to the groups of people you're trying to reach. They can speak to the company's process, values, and approach. They can share their own experiences and encourage friends and family to apply. We will cover more about employee-driven recruiting in the next chapter.

7. Events—Job fairs and trade shows
Covid-19 has dramatically changed the way we interact with each other and with companies in a public setting. Prior to 2020, trade shows and job fairs were a standard practice in the recruitment process. While in-person events are smaller (or in some cases, canceled for the foreseeable future) it's important to remember the value of these types of engagements. Look for virtual or small-scale event opportunities.
Need help with distribution tactics like paid media? We can help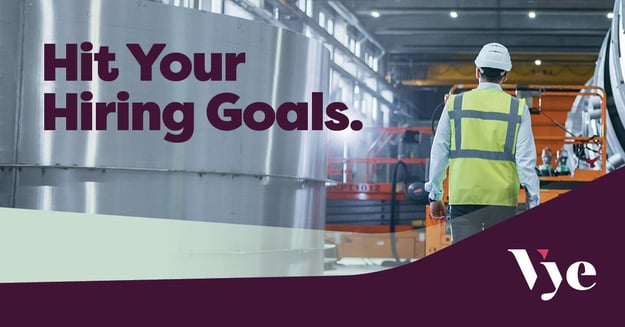 These points scratch the surface of what can be accomplished to amplify your manufacturing recruitment and retention efforts. If you're looking for key insights and actionable advice, check out our full feature resource: Master Guide to Recruitment & Retention in the Manufacturing Sector
Give a little.
Get a lot.
We regularly share insights on how we approach marketing. Get on the list.