Are You Including These 3 Things on Your Manufacturing Job Posts?
Author \ Alison Schroeder
04.29.21
---

Build Optimized Job Postings/Position Pages
Job postings. Position pages. Career descriptions. Whatever you call them, these critical pages outline the requirements of your open positions and entice a candidate to apply. Getting these pages right is crucial to hitting your hiring goals.
Creating a website experience designed to attract and convert doesn't end with the main Careers page (although VERY important). That same attention to detail must be extended to the individual position pages. This is a critical step, and the content developed for these pages can (and should) translate into other job sites like Indeed or Zip Recruiter. Here are top things to address on each individual position page:
1. Optimize your individual position pages
Much like your main Careers page, it's important to optimize each position page for search. This includes filling in the meta title and meta description.
Meta title: Should be 50 characters or less and include keywords. This is what appears in Google, and should be descriptive of what they will find on the page. It should be unique for every page and should compel a user to visit the page.
Meta description: Should be between 50-160 characters long and include keywords. The entire purpose of this is to get a user to click, so make sure it reflects the page and present compelling information. This should be unique for each page.
It also includes working in relevant keywords throughout the content. In most cases, these keywords revolve around the position itself, and any variation of that position title that might be used by a candidate. For example, if you are hiring for a sales position, you would want to work in a variety of titles naturally within the content. Things like: Account Executive, Direct Salesperson, Distribution Sales Representative, Inside Salesperson, Equipment Sales Specialist, etc. By organically working the variations of the title into the content on each individual position page, you signal to Google to serve your page up when someone uses whichever term is relevant to them.
Lastly, you'll want to make sure you add Google's job posting structured data to job posting web pages in order to make your job postings eligible to appear in a special user experience in Google Search results. Need help? We've got your back.
2. Include relevant and compelling content
While each individual position page shouldn't be a repeat of the main Careers page, it's important to include relevant content. For example, how can you highlight your company's core values and how they apply to that specific position? Are there position-specific testimonial videos you could incorporate into the content? Are there specific benefits that only apply to that position, in addition to the standard benefits? Position pages tend to be more content heavy and include less visuals, but don't let that stop you from including videos and photos if they are relevant to your audience.
If you are struggling to find candidates, consider removing barriers. One way to do this is by encouraging those without prior experience to apply. Explain your process for onboarding and ongoing training. Highlight transferable skills.
3. Make the position look interesting and fulfilling
There is a temptation in this industry to be straightforward with position descriptions. That makes sense, since we're often talking to people who would be described as no-nonsense, detail oriented problem solvers. That, however, can be damaging if taken too far. While you may want to avoid overly fluffy language, you shouldn't shy away from the epic nature of the role. Manufacturing is the backbone of America. It often involves hard work and results in critical products our culture needs to thrive. Stray away from pointing out the obvious (i.e. "you must be able to lift 50 pounds") and lean into the extraordinary (i.e. "you are crafting materials that will be used across the globe for decades to come.")
Individual Position Page Examples
Here are some excellent examples of individual position pages that are designed to convert. Once on these Careers pages, navigate to several of their individual job posting pages to get a broad perspective of how these companies are positioning their open careers.
Need help creating an optimized Careers page or individual position pages? We can help.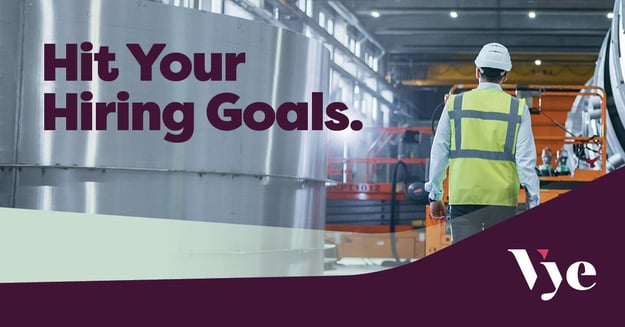 These points scratch the surface of what can be accomplished to amplify your manufacturing recruitment and retention efforts. If you're looking for key insights and actionable advice, check out our full feature resource: Master Guide to Recruitment & Retention in the Manufacturing Sector
Give a little.
Get a lot.
We regularly share insights on how we approach marketing. Get on the list.