8 Steps to Adapt Your PR Strategy in a Digital Era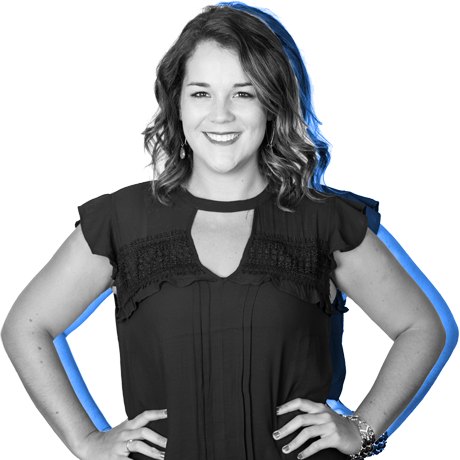 Posted on Fri, Jan 31, 2020
by Dominique Bohler
Are you one of "those people" who think Public Relations is a thing of the past? A tactic that doesn't bring in leads, is a waste of your investment, and can't be measured? If so, you are not alone. I run into this belief from customers quite often. I am here to challenge that thought, and have you think about it as a spoke or tactic in your marketing plan to do just that. But, what you must first think about is how to adapt your Public Relations (PR) strategy in the digital era we are in.

What is a public relations strategy?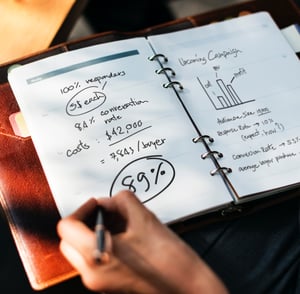 Let's start with the basics.
"A PR strategy enables you to consider every aspect of communicating a message in the best possible way." - Catriona Pollard, Huff Post
"A strategic PR plan encompasses what you are trying to achieve with your PR efforts and how you are using PR to help support your overall goals." - KJ Greenwood, Quora
If you're still feeling a bit lost on how to get started, this blog is here to help, and will give you a PR strategy example you can use as a reference to guide and support your PR efforts.
Ready to bring together traditional and digital PR tactics for your next marketing strategy?
Digital Public Relations Strategy Example & Plan
In general the steps needed in order to execute a successful PR plan are the same as any great marketing plan. Here are the steps:
Research
Business Goals & Objectives
Target Audiences
Strategy
Tactics
Timeline
Budget
Measurement
Keep reading to see how you can execute each of these PR strategy steps. From tips and tricks to questions and examples, we've got you covered.
1. Do Your Research
Use this step to determine what's been successful for your PR department in the past. Look into the previous year's media coverage to determine which media outlets, reporters, influencers, and contributors took time to cover your company. Here are some questions to get you started on assessing your past public relations plan and get you one step closer to creating a newer and more successful one:
Which PR efforts were attainable to execute?
Which efforts took more time to execute?
How much time and budget was spent? Was this more or less than planned?
How many "wins" were secured? How did you get those wins?
How did you show success? How could you show it differently?
Who did you build relationships with? What's your plan to nurture those relationships?
Who do you want to build relationships with?
Where do you want to be featured?
What's something new you could try?
What improvements could be made?
What did others find successful (your manager, team members, etc.)?
Is your story newsworthy?
Is there anything you "wish they knew" for your story angle that you could consider?
What media would you like to communicate your story with?
Pro Tip 1: Remember what is newsworthy to you may not be to the media. You need to make sure you are not using public relations as a self promotion tool and instead a way to communicate a message that the public would be interested in.
Pro Tip 2: Build a media list using a tool like Cision. You can do it the old fashion way of scouring the internet and building a spreadsheet (you may need to do both depending on your market size).
2. Define Your Business Goals & OBJECTIVES
Ask yourself, "what does our business want to accomplish in the next year?" From there, spend some time brainstorming the tactics that would best support those goals. Is it public relations or is it something else? While PR strategies can provide major benefits, it won't always be the main driver or most successful effort for a specific goal (this is usually a bottom-of-funnel goal).
Here are some business goal examples that are harder to tie public relation efforts to:
Generate X sales qualified leads
Increase revenue by X%
Secure X new customers
Notice I said "harder" to tie your efforts to — that doesn't mean it can't be done. Public relations tools or marketing automation softwares like Cision and HubSpot will make your life a lot easier. These tools can help you show which contacts and customers were generated because of your public relations efforts, such as a feature article or influencer post.
At this point, are you saying are you questioning what goals can be hit, and if that is real? If so, check out this blog on how Public Relations for a client worked to generate a 900% increase in website traffic.
Pro Tip: Set realistic goals and again map them back to the long term campaign. There is generally no one magic bullet, but the combination of a comprehensive marketing plan with digital public relations and other tactics that work together to achieve business goals.
3. Identify YOUR Target Audiences
Who do you need to talk to in order to execute your PR objectives? These audiences could be different for each objective you create. They might be specific media outlets, influencers within a specific business vertical, or journalists in a certain region. Identify who they are and their key players so you can create a strategy to target them (see next step).
These audiences are different than your buyer persona or a potential new customer. Instead, these audiences are the people and groups that talk to your buyer persona — the ones that are going to help you get in front of your buyer persona and influence their decisions.
Pro Tip: You have several audiences when thinking about public relations... the media contacts/companies and their readers (their readers should be your target persona). Keep them all in mind and craft a plan to benefit everyone.
4. Create a Strategy (for the PR Objectives)
What's your plan of attack for the objectives you previously outlined? Take a high-level approach when defining the efforts you need to execute in order to tackle your objectives. Don't worry too much about identifying the step-by-step approach to achieving these yet (this comes in the next step).
Your strategy should connect the dots between all of the steps previous to this one (e.g. target audience, objective, and business goal).
Consider including Public Relations into your strategy if you have any of the following present in your organization:
New hires
Promotions
Events
Community involvement
Major company news/launches
Pro Tip: If there is anything I can stress it would be to make Public Relations an integrated part of your marketing strategy, not stand alone. Below is an example of a product launch campaign that has a public relations strategy integrated into the plan.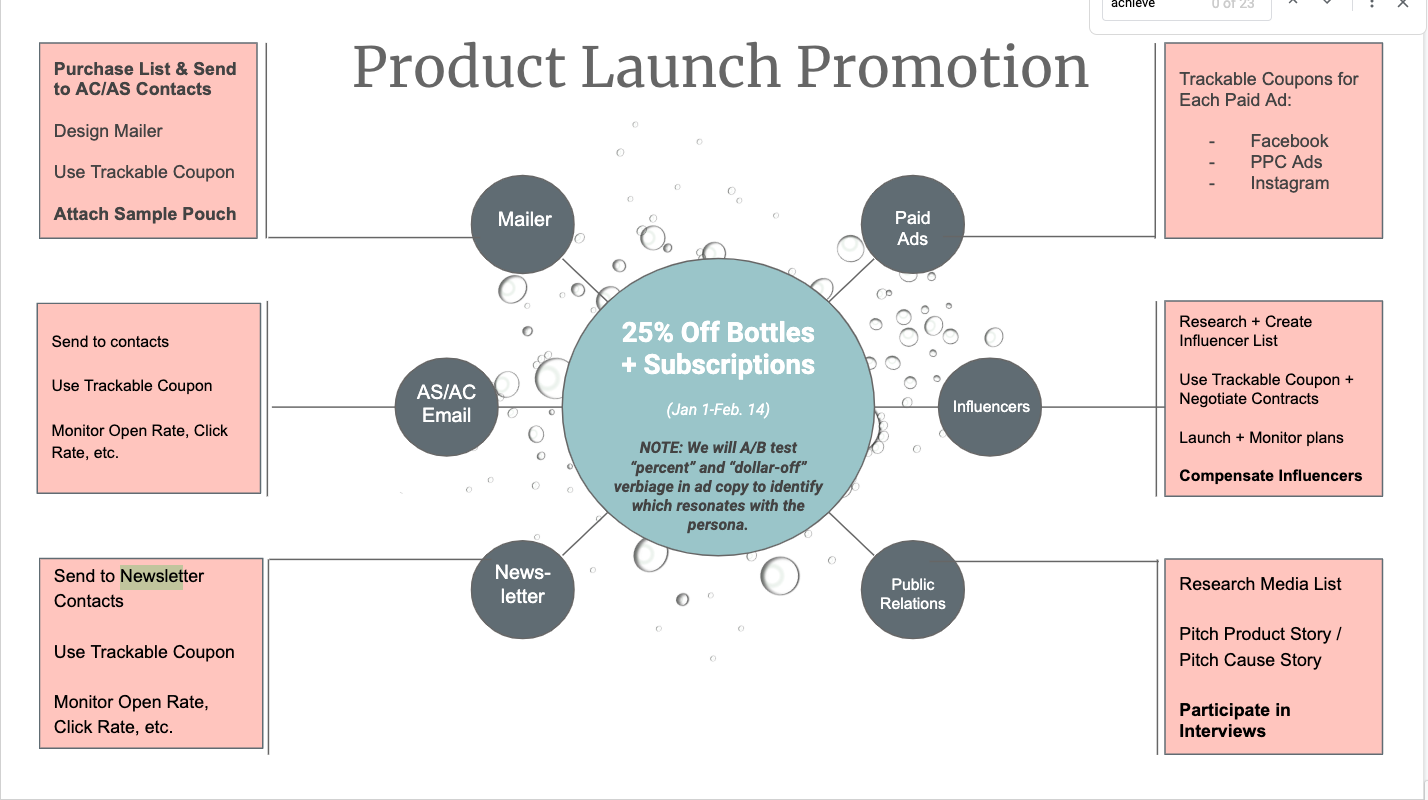 EXAMPLE: We will generate "Strategy Effort A" by sharing "Strategy Message B" with target audience "C" to support objective "D" which will impact business goal "E".
5. Organize Supporting Tactics (for the PR Strategy)
Here's where you get into the nitty-gritty. Start by outlining how you plan to execute each step in the strategy. For example, if your strategy includes generating positive press coverage, you might identify SMART online media outlets to target, utilize their editorial calendar, and begin building relationships with influencers/contributors who have a connection to it. This is the step where digital plays the biggest hand. Some of the most common digital PR tactics and topics used in today's digital era include:
Digital News - create an online newsroom that uses specific keywords to support press release content
Event Marketing Strategies - drive website traffic, increase leads, and generate brand awareness on social media
Influencer Marketing - identify industry micro-influencers, build digital relationships, and create mutually beneficial plans for both parties
Industry Monitoring - keep a pulse on trending content, and pitch to editors
Reputation Management - use tools like BuzzSumo and Google Alerts to monitor brand mentions and respond to any positive or negative online reviews, comments, and conversations
Thought Leadership - Build up key company leaders as thought leaders in the industry using guest blogs, social media engagement and outreach, digital advertorials, and media outreach
Speaking Opportunities - research webinar or podcast hosts and event opportunities that align with key leaders' specialties and create an outreach or submission strategy
Conversion Strategy - make sure you have a home base where you will send inquiries to allow prospects to convert online and further the conversation with you. Consider setting up nurturing workflows for those newly converted contacts
Social Media Marketing - think of your earned media contacts as prospects. Follow, like, and share their content to build a relationship. Then, when you are featured use social media to distribute it to the masses
Pro Tip: Almost everyone forgets the conversion strategy. If you want to measure it you must set it up in a way that would allow for measurement. That could mean a dedicated landing page, or a tool that can setup a campaign and track activity changes such as Google Analytics or HubSpot.
6. Create a Timeline
Based on the size of your goals, objectives, and strategy — and the number of tactics you have created to support these — you can determine a timeline. This will be your "guide" for your PR plan. I say this loosely because as we know, PR is definitely a fluid practice. You have to be ready to adapt as tactics start to take off or become unproductive. Your timeline may include the following calendars to support your plan:
Social Media Calendar
Blog Editorial

C

alendar

Speaking Engagement

C

alendar

Influencer Outreach

C

alendar

Event Sponsorship Calendar
7. Set A Budget
This one is a biggie. Can you actually put the tactics you've planned into action? If you don't have the dollars to support the time and work going into the tactics outlined in your plan, you'll find yourself in trouble. Some questions to ask yourself that can help you identify hard costs and hourly costs include:
How many influencers, reporters, media outlets, and speaking opportunities do I want to find? How long will this take me?
How many hours each week do I want to spend pitching?
Will we be paying for any promoted content?
How will I distribute press releases? Will I use a service like PRWeb or Newswire?
How long does it typically take me to write and optimize a press release?
How many _[insert type of contact]_ do I want to connect with on social media?
Make sure you have a clear vision of the time, materials, and resources needed to support your PR plan from start to finish (and communicate them with your leadership team).
8. MEASURE Success
You've already identified the goal you are trying to reach; however, it's essential you acknowledge the "little wins" that help you reach your goal. Which metric aligns and supports your objective or goal the most? Which proves the biggest ROI for all of the time and work you've spent on PR tactics and efforts?
Here are a few metrics or KPIs to think about adding to the assessment of your PR plan: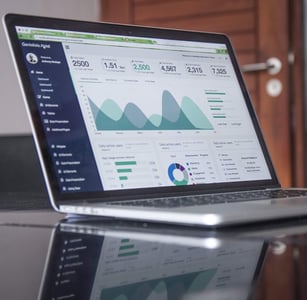 Total media coverage, impressions, and reach

Types of coverage (radio, magazine, blog, print, television, etc.)
Media coverage sentiment/tone
Total brand mentions on digital (blogs, online media, social, etc.)
Influencer engagement
Social media account sentiment/tone
Social media reach, shares, and growth
Website traffic
Website rank
Number of backlinks
Key takeaways from digging into different PR strategies and plans: your strategy and plan will likely evolve over time and adapt to the successes and challenges it faces. And, when things aren't working, don't be afraid to try new tactics! Just be sure that they strategically align with the other elements of your PR plan and support your business goal.
Topics: Public Relations