10 Ways Manufacturing Companies Can Build Talent Dimension Into Their Brand
Author \ Tammy Moore
05.27.21
---

What Do Employees Say About Your Company?

You can recruit top talent through word-of-mouth and recruitment agencies, but one of the most powerful ways to land top talent is to build your employer brand. While similar to your organization's brand, your employer brand speaks to your reputation and approach with employees (i.e. what is the perception about what it's like to work at your company and how do employees describe their experience working there), culture, and work. Here are some of the top tactics we've initiated on career pages, job postings, and social media to help build an employer brand:
1. Assess your competition
Competitors can steal more than your leads. Whether you're a small business with less than 100 employees, or a larger business with 500 or more employees, competitors can steal your talent. Not just your current employees, but your prospective employees as well. To outperform your competitors, you must first understand what they're doing to attract prospects. Check out their website and social platforms to understand how they are positioning themselves and their differentiators. From a technical standpoint, you can also use tools like Ahrefs to determine which keywords your competitors are ranking above you. Aim to exceed their efforts. Need help assessing your top competitors? Let us do the digging for you.
2. Create an 'Employee Value Proposition' (EVP)
According to TalentLyft, an Employee Value Proposition (EVP) is a unique set of offerings and values that positively influence targeted candidates. It answers a crucial question from prospective employees: "What's in it for me?" EVP should incorporate five key areas: compensation, benefits, career, work environment, and culture. What is the reward an employee receives in exchange for their performance? This article offers great insight to help you build an EVP. This article showcases some great inspiration and examples.

3. Talk about culture
Talk about your company culture often, both internally and externally. In the previous chapter, we talked about incorporating culture-related content on career pages. This goes a layer deeper. How can your leadership team intentionally engage the entire company on matters of culture and values? What structures exist to develop strong loyalties and deepen relationships among employees? How can you weave culture into mainstay events, meetings and processes?
Owning, and continuing to refine, your company culture and how it is displayed and shared with employees is vital to retain top talent. A Gallup survey found that 89% of employers think employees leave for more money. In reality, this applies to only 12%. Another study by Speakap found that 79% of American workers say company culture is an important factor in job satisfaction.
If your company operates under a formal business operating structure, you likely follow a specific process to highlight culture. An example of this is the Entrepreneurial Operating System (EOS) based on the book Traction, by Gino Wickman (this is the system we use at Vye, with great success!).
In the EOS system, it is expected that company leadership gather the entire staff at least once a quarter to share openly and honestly about company goals and progress to reach them. In addition to goal sharing, this quarterly meeting is an opportunity for leadership to reiterate core values and share stories about how employees are living up to them and also address questions or concerns.
Employees crave an open and honest culture even when things aren't going well. It's human nature to assume the worst, which can sometimes be fueled by an open license to "create a story" in the absence of information and communication from leadership. If your company is going through a downturn, you can be assured that if you aren't open with employees about the reality of the situation, they will likely assume, and discuss, the worst case scenario. Transparency is one of the easiest ways to build trust and loyalty.
4. Create a culture-centric social media presence
Reach your target audience through social media by sharing authentic content about the culture and employees. How do you celebrate wins? How do you reward employees? Be sure to feature employee stories and testimonials (especially videos!). Social media offers a great opportunity to share information about your workplace dynamic. Do you host special events? How does your company get involved with the community? Do you have team traditions? Share them on your platforms.
5. Leverage your "influencer" employees to help you recruit
One of the most powerful and underutilized tools a company can use when it comes to recruiting (and selling, for that matter!) is their own staff. Think about your most engaged employees and their networks. It's likely that they have family and friends who follow a similar code of conduct when it comes to things like work ethic and core values.
A simple, yet effective, tactic in spreading the word about open positions is to seek the help of these influential employees. Look for people who aren't afraid to share their experiences, who delight in helping others, and who have broad friend groups. Not sure how to find these people? Ask managers to point you in the right direction. This could be as simple as asking employees to share specific posts. It could also evolve into something more formal, like asking them to be an ambassador as part of their career growth path.
If you want to level up this strategy, consider featuring these employees in video or blog content. They are even more likely to share with their network if the content is about them.
6. Highlight proof points
Prospective employees want to know you are a good employer before they're willing to trust you with their livelihood. While this often involves things like offering competitive wages, it can also come down to proof points. Common proof points include reviews, awards, and press coverage.
If your company has won relevant awards (think: Top 100 Manufacturing Companies, Top Manufacturing Employer, etc), you'll want to highlight these often. If your company does something unique and beneficial for their employees (either as a one-time opportunity or long-term approach), publicize it through media channels. The most important thing is to stand out from your competition and showcase how you are a great employer.

7. Gather and highlight employee reviews
According to Hireology, candidates read an average of six reviews before applying to any given role. While that number may change based on the specific target audience and vertical, it affirms that prospects want to know what others say about the employer before applying.
Gathering reviews on Glassdoor, Facebook, and other channels can be a powerful tool in validating your company. We suggest asking employees to complete reviews on an annual basis. You can then highlight these reviews on your Careers page or individual position pages, either manually or through an integrated website plugin.
8. Create content about the things your prospective employees and current employees care about
HubSpot describes inbound marketing as: "a business methodology that attracts customers by creating valuable content and experiences tailored to them. While outbound marketing interrupts your audience with content they don't always want, inbound marketing forms connections they are looking for and solves problems they already have."
This inbound marketing approach doesn't only apply to prospective customers. It is an incredibly strong way to attract prospective employees. By answering questions prospective employees have through content (often blogs or videos), you begin to build trust. In addition to building awareness of your company, it encourages readers to rely on you as a thought leader to help them navigate their own life challenges. Curious what some of those topics might be? Here's a list of the top questions prospective employees ask.
9. Leverage video to tell stories about your company, people, and culture
Video is a versatile media that works well on a website, within social media platforms, and through paid media efforts. The data shows that video is, by far, the preferred method of media consumption. Cisco suggests that, by 2022, online videos will make up more than 82% of all consumer internet traffic—15 times higher than 2017. Using video to share about specific positions and the company as a whole is a powerful way to connect with prospects. Need some inspiration? Here are a few of our favorite brand videos:
10. Create an employee referral program
Create a referral program that rewards employees for successful referral hires. This can amplify a word-of-mouth strategy and also the likelihood of current employees to share information about open positions via email and their personal social channels. A referral program should consider wins for current employees and new hires. Some companies offer current employees a cash bonus for referring new hires and another cash bonus for the referring employee and new hire after the six months or one year is achieved. Some companies form a hiring advocacy team of individuals from throughout the organization who can help recruit, refer, and vet prospective employees. These individuals may also participate in the interview process.
Need help telling your brand story? Let's talk.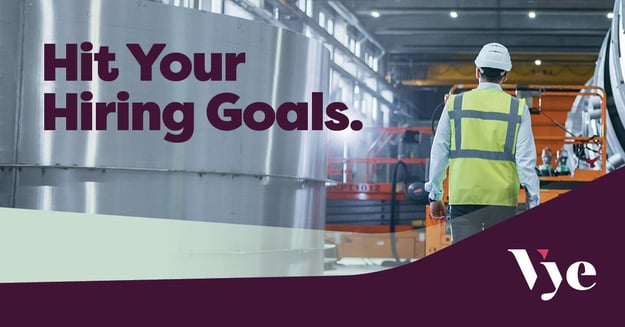 These points scratch the surface of what can be accomplished to amplify your manufacturing recruitment and retention efforts. If you're looking for key insights and actionable advice, check out our full feature resource: Master Guide to Recruitment & Retention in the Manufacturing Sector
Give a little.
Get a lot.
We regularly share insights on how we approach marketing. Get on the list.