Crisis Mode: Senior Living Community Raises Critical Funding (& Spirits) with Inbound Marketing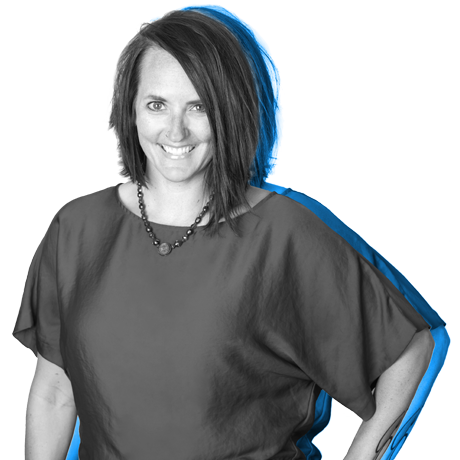 Posted on Mon, Jun 29, 2020
by Alison Schroeder
The Client:
Walker Methodist is a senior living organization with 20 community locations throughout the greater Minneapolis, MN area. They serve the 55+ population and specialize in assisted living, memory care, and independent living. The organization also supports the Walker Methodist Foundation established to provide a vibrant donation platform for funds to be used to support programs, services, initiatives, and capital needs for residents, patients, and staff.

In 2019, Walker Methodist partnered with Leighton Interactive for an inbound marketing campaign including a website refresh centered on personal stories in order to appeal to individuals and families seeking senior living care as well as highlight employment opportunities from a recruitment perspective.
The Challenge: COVID19 Compromising Campaigns
The story campaign was well underway in the early part of 2020 when COVID19 knocked existing plans and timelines off-kilter for the collaborative work between Walker Methodist and Leighton Interactive. Suddenly, there was chaos and the threat of impending crisis affecting every community, its residents, staff, and families. There were many unknowns as the organization responded to state mandates and preventative measures to keep thousands of people safe.
The teams at Walker Methodist and its Foundation knew changes in marketing strategies were necessary in order to maintain any semblance of normalcy and control during unimaginable stress. They identified key areas that needed to be addressed:
The Solution: The Power and Comfort of HubSpot
In order to create and launch a plan that would address those key areas, Walker Methodist reached out to Leighton Interactive to pivot from the existing campaign strategy to develop a new plan stemming from COVID19's implications.
"Our partnership [with Leighton Interactive] changed quite a bit when COVID19 hit. The goals we had for ourselves going into 2020 flipped very quickly and they've adapted very quickly as well."

— Sarah Benbow, Director of Marketing & Communication at Walker Methodist

Together, the two companies created Well Wishes for Walker, an outreach program designed to honor employees and add levity and gratitude to their lives through messaging and encouragement. In order to effectively target, reach, and measure the efforts and effectiveness of Well Wishes for Walker, the campaign was conducted through HubSpot. The comfort of a familiar platform combined with the powerful tactics of inbound marketing helped create a strong sense of purpose and urgency within the new plan.
The Results: Leveraging Ease of Use & Data Collection
Using HubSpot, Leighton Interactive created the tactics to launch Well Wishes for Walker. The goal was to gather submissions to share with the employees across all communities and generate financial support for the Foundation. These funds would support employees with expenses during the COVID19 pandemic and address critical needs.
POP UP CTA
Users visiting the Walker Methodist website were greeted by a pop-up promoting the Well Wishes for Walker campaign. Once the pop-up, created in HubSpot, was clicked on, it brought users to a custom landing page where they could choose to submit a message, donate to the Walker Foundation, or both.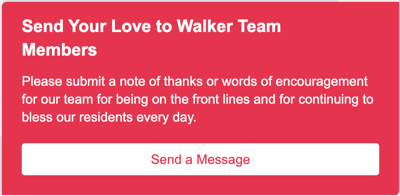 LANDING PAGE
A custom landing page was created in HubSpot to drive all traffic back to a single source. It included the ability to download a PDF file of "Willy or Wilma Walker", illustrated depictions of characters, that could be colored and mailed to residents.
The well-optimized landing page also included a form to capture submissions from users including name, email, and message. A CTA gave the option to users to donate financially to help team members serving on the front lines.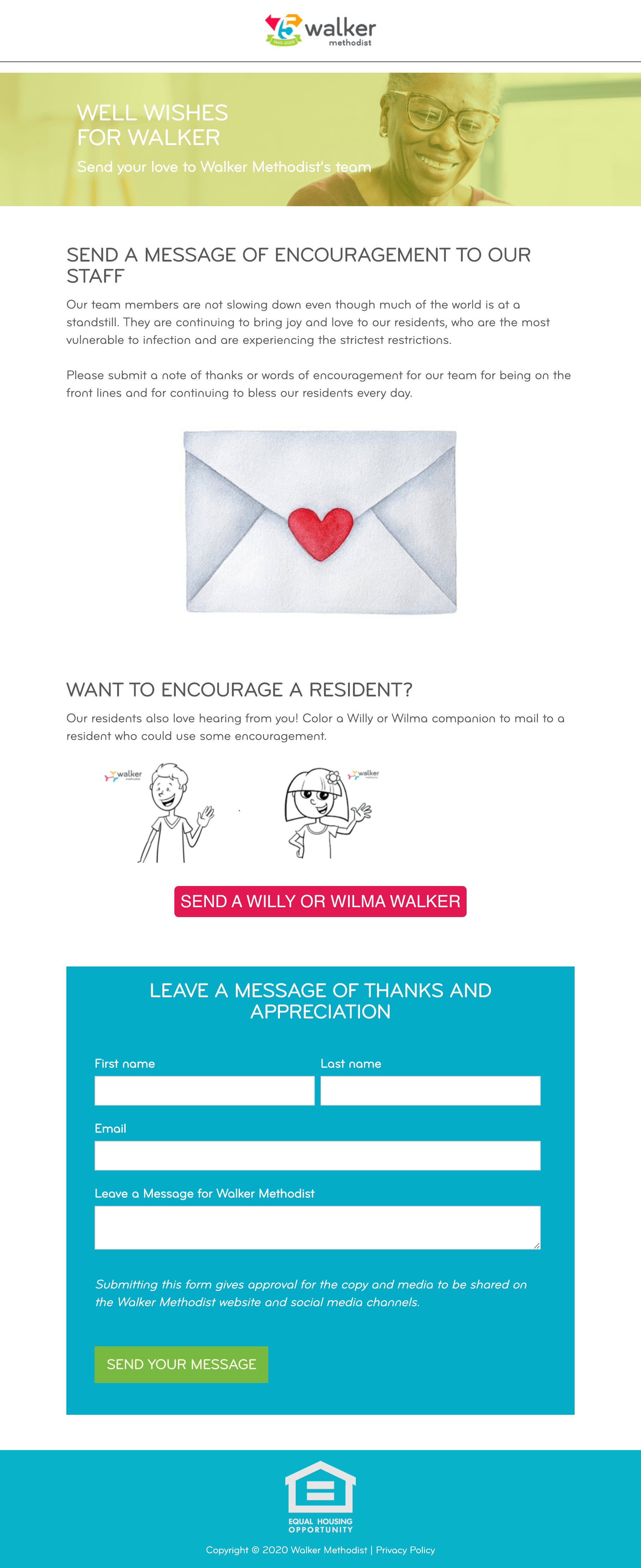 Once messages were received through HubSpot, they were added to the landing page for people within the organization as well as outside to read the heartfelt, compelling wishes and gratitude for those making a difference in the lives of Walker Methodist residents.

PAID ADVERTISING
Custom graphics were designed to generate awareness of the pandemic-related campaign. The graphics were applied to remarketing tactics using HubSpot in a concerted lead generation strategy. The ads encouraged visitors to click where they would be led to the landing page for submission.
The Impact: Critical Fundraising & Crucial Messaging
One of the overarching concerns for the team at Walker Methodist and its Foundation was how to empower people to make a difference when everything was at a standstill and seemingly nothing made sense. How could the organization draw upon the generous support and fortifications of its community? Well Wishes for Walker was an answer to that concern and a tangible effort for hundreds of people committed to supporting Walker Methodist during the most trying of times.

In the three months since Well Wishes for Walker launched, the landing page has received 331 views with 119 submissions for a conversion rate of 35.95%. 42 new contacts were established. And, $40,000 was raised for Walker Foundation.

The marketing strategy facilitated by HubSpot with Leighton Interactive's collaboration was the difference-maker in the execution and success of Walker Methodist's answer to the pandemic and will forever be a source of inspiration and light in a time of darkness.