Logistics Sales Team 20-70-10 Rut: Fix Your Sales Team, Fix Your Revenue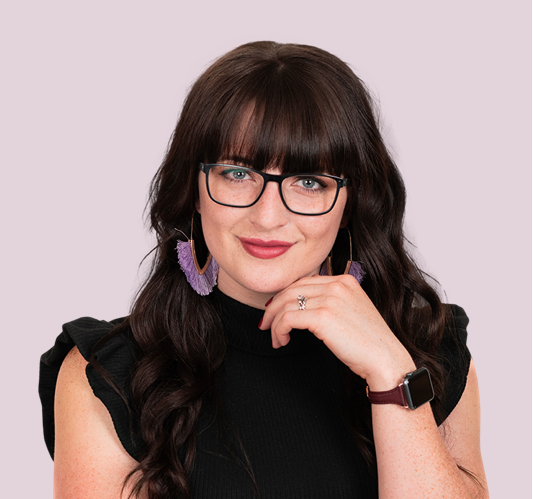 Posted on Wed, Mar 31, 2021
by Clare Richards
The third-party logistics industry is known for high burnout in sales staff and thus requires a specific type of person to succeed when it comes to sales. Many companies find it difficult to onboard and keep staff, much less find employee rockstars with tenacity and curiosity. The industry can feel like a never ending cycle of chaos.
If your business is like the majority of 3PLs, your sales team might look something like this:

This kind of rut is detrimental to growth.
If you want to be a top tier logistics brokerage, you have to find a way to get your okay people to crush it, and avoid the bottom 10% altogether. How do you do this? Follow the recipe to find, recruit, and retain the best people.
How do you cut through the clutter and find the best sales people? We've helped companies like Granite Logistics do just that. Read on to find out how.
Build a target audience
Much like ideal prospective clients, it's vital to build a profile of your ideal sales employee. What are their primary characteristics? What words describe them? What personality type works in the role?
Here are some common themes we've found in our research:
Words to describe an ideal sales candidate in the logistics industry:
Tenacious
Curious
Competitive
Common personality types
Extraverted
DiSC: DC, D, or DI
Myers-Briggs: ESTJ, ESFJ, ISFP, ISFJ
Common titles held by prospective salespeople
New Business Development
Sales Associate
See full list here
Preferred experience
5-10 years professional experience
Prior sales experience
Direct client relationship experience
Watering holes (places your prospects go for information)
Word-of-mouth
Social media
Job websites
Real-world example of a persona: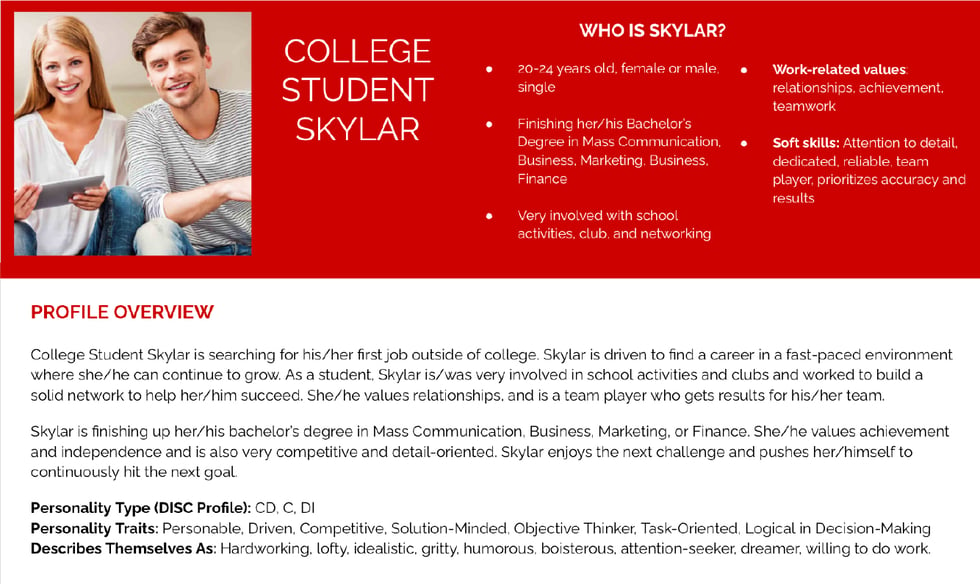 Note: Much of this applies to identifying your ideal Operations employees as well.
Give Your Team the Tools to Succeed
This is a high turnover industry. That doesn't make it any cheaper to recruit and onboard employees. We all know that the time and expense associated with onboarding team members can be extraordinary. How do you make sure those valuable dollars don't go to waste? By retaining the talent, of course.
Think about your own experience throughout the course of your career. What have companies done to earn your loyalty? What have they done to motivate you to leave? The likely answer is this: The companies that inspired you to work hard and stick around were the ones that offered support and gave you the tools to succeed.
This might seem like a no-brainer, but there are far too many freight brokerage companies that struggle with this very thing. Some would argue that sales in the 3PL industry is more of an art than a science. Some might even argue that it falls to luck, rather than skill; "it's not what you know, but who you know" mindset.
We disagree. Through our work with 3PLs, we've learned how successful companies support their employees and give them the tools to succeed.
Here are just a few opportunities:
Nail the onboarding process
Starting a new career can be challenging. The fast-paced environment and high expectations of the 3PL industry amplify the challenges. It's not enough to hand your new employee a phone and tell them to get to work. You need to facilitate a well-organized onboarding process if you want a winning team.
What needs to happen before the first day of employment?
What are tactics that can be put in place to help the new employee feel connected and perhaps begin the onboarding process at their own pace, before day one? Think about company background material that can be read leisurely, human resources paperwork, a welcome gift from the company or team, equipment set up. Most of these details should be managed, and delivered, by the organization with an invitation to the new employee to engage as they are able.
What do the first several days on the job look like?
Make a checklist, make sure the new employee has someone (or several people) walking them through the processes and procedures of your company in the first week. What tours should take place? What cultural aspects or conveniences are helpful to know right away, such as customary break times, lunch culture, location of restrooms, and any other key "bonus" areas such as workout facilities, proximity to favorite dining spots, etc. You might consider aligning the new hire with a mentor, who is not a direct report or manager, who can provide companionship and insight throughout the first 90 days of employment.
What sales training do you offer?
Avoid informal sessions with the top salespeople. Just because they are your top salespeople doesn't mean they are great educators. They are typically ill-equipped to share an actionable process, and are sometimes too competitive to share their "secret sauce."
Give the new hire resources and tools beyond the initial training
Scripts. Make sure your team is using the same powerful language to talk about your company.
Email templates and email signatures. Give new hires a base to start with and let them customize as their confidence grows.
Case studies/client testimonials to share. Provide a variety so the salesperson can sift through and pick one that's relevant to a client.
Teach them how to bypass gatekeepers; give your team tips on how to get a gatekeeper to pass on your call, or better yet, bypass the gatekeeper altogether if possible.
Have them buddy up with an experienced operations person to assist with execution questions.
Use a CRM (Customer Relationship Management) tool
A CRM tool is an online, dynamic tool that supports the storage of all prospect and customer information. Great CRM systems automatically tie communication efforts to a prospect/customer "profile". e.g. if you email a prospect/customer, it will be automatically stored in the CRM for future reference. Our favorite tool is the free HubSpot CRM.
Using a CRM tool is critical to help support your sales team by setting expectations and having a defined process for prospect and customer management. This is especially important for new employees Using a CRM removes the mess of Post-It notes, saved emails, and phone reminders. A CRM tool also allows team members to access client information. This can ensure Operations is able to access critical information about client communication and set expectations. It allows Sales management to see progress and track metrics. Lastly, it allows for easier transition of clients from salesperson to salesperson, if needed.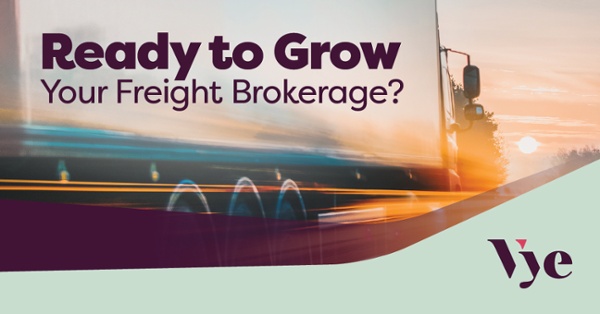 These points scratch the surface of what can be accomplished to amplify your freight brokerage business. If you're looking for key insights and actionable advice, check out our full feature resource: Top Tactics to Grow Your Freight Brokerage Business in 2021.
Topics: Marketing Strategy | Buyer Personas