10 Steps To Attract the Right Talent to Your 3PL Company
Author \ Clare Richards
04.12.21
---

You can recruit top talent through word-of-mouth and recruitment agencies, but one of the most powerful ways to improve success with top talent is to build your employer brand. While similar to your organization's brand, your employer brand speaks to your reputation and approach with employees (i.e. how employees describe their experience with your company), culture, and work. Here are some of the top tactics we've initiated on career pages, job postings, and social media to help build an employer brand:

1. Answer questions about pay structure and benefits openly and honestly
Prospects want to know about your pay structure. We know this can be a sensitive topic. But how can you find ways to set expectations while leaving flexibility for an individual's unique approach? Can you showcase a typical commission structure? Can you talk about base pay? Can you speak in averages? Remember to share details about pay structure such as growth opportunities, timing of performance reviews, team goals/incentives available, frequency of commissions paid, etc. Cover broad beliefs and practices related to compensation such as the sales teams' connection to the company's bottom line, non-cash incentives or perks such as product or service bonuses and trips. Don't forget to outline the benefits your company offers, such as health insurance, short- and long-term disability, retirement plans, paid time off, provided technology, etc.

2. Talk about culture
What differentiates your company from other 3PLs? How about from other sales organizations? Outline these clearly, boldly, and proudly. Don't forget to back it up with data. That could include things like: employee survey results, awards and accolades, employee testimonials, average tenure of employees, community involvement, etc. Culture is more than having a ping pong table in the break room. Prospects want to understand the team dynamic and what to expect if they join your team.

3. Leverage video to tell your story
Video is a versatile media that works well on a website, within social media platforms, through paid media efforts, etc. The data shows that video is, by far, the preferred method of media consumption. According to Cisco, by 2022, online videos will make up more than 82% of all consumer Internet traffic—15 times higher than it was in 2017. Using video to share about specific positions and the company as a whole is a powerful way to connect with prospects. Here's an example of video we did for a client, Granite Logistics.

4. Assess your competition
Competitors can steal more than your leads. Whether you're a small firm with less than 20 employees, or a larger firm with 50 or more employees, competitors can steal your talent. Not just your current employees, but your prospective employees as well. To outperform your competitors, you must first understand what they're doing. Check out their website and social platforms to understand how they are positioning themselves and their differentiators. Aim to exceed their efforts.
Need help assessing your top competitors? Let us do the digging for you.

5. Answer frequently asked questions about careers in the logistics industry
You can build loyalty by creating trust with your prospects. Building trust happens when you provide clear answers and direction. Many sales people outside the 3PL industry will not know much about what to expect. Anything you can share to ease their uncertainty will help set you apart and above your competitors. See a full list of frequently asked questions here.

6. Optimize your logistics career pages on your website
A compelling Careers page starts with including much of the information listed above. Beyond that, you'll want to be sure that each position has its own page and is clearly outlined and optimized for search. Some common things found on successful job posting pages include: Robust details about job expectations, a "Quick Apply" form, and information about the company culture.

7. Leverage social media platforms
Reach your target audience through social media by sharing authentic content about the culture and employees. How do you celebrate wins? How do you reward employees? Be sure to feature employee stories and testimonials (especially videos!). Social media offers a great opportunity to share information about your workplace dynamic. Do you host special events? How does your company get involved with the community? Do you have team traditions? Lastly, encourage your employees to share posts on their personal social media platforms. This can be a very powerful way to reach prospective employees.

8. Maintain a presence on job boards
Leveraging job boards such as LinkedIn Careers, ZipRecruiter, and Indeed are an important part of a well-rounded recruitment process. The amount you spend within each platform should be based on historical data in terms of candidate quality. Don't have historical data? Start collecting data with your first posting, noting key elements such as number of qualified candidates, number of individuals advanced to the interview process, number of offers extended and accepted. Want a list of job boards to consider? Get it here.

9. Survey your employees
How you survey employees might change based on the number of staff (one-on-one feedback sessions for small teams, digital surveys for large teams, etc.), but one thing is for sure: gathering data from current employees is critical to hiring the best employees. Collecting information on an annual, bi-annual, or quarterly basis can help you identify trends, differentiators, or gaps in the hiring process, organization, structure, and more. It can also be impactful to ask employees to rate and review your company on third-party websites like Glassdoor, Facebook, or Google.

10. Referral programs
Create a referral program that rewards employees for successful referral hires. This can amplify a word-of-mouth strategy and also the likelihood of current employees to share information about open positions via email and their personal social channels. A referral program should consider wins for current employees and new hires. Some companies offer current employees a cash bonus for referring new hires and another cash bonus for the referring employee and new hire after the first six months or one year is achieved. Some companies form a hire advocacy team of individuals from throughout the organization who can help recruit, refer, and vet prospective employees. These individuals may also participate in the interview process.
Need help building a strategy that targets top talent? We can help.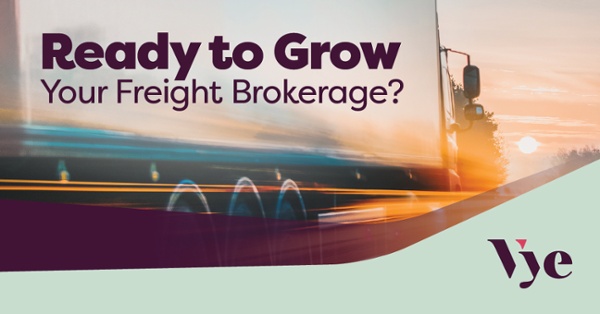 These points scratch the surface of what can be accomplished to amplify your freight brokerage business. If you're looking for key insights and actionable advice, check out our full feature resource: Top Tactics to Grow Your Freight Brokerage Business in 2021.
Give a little.
Get a lot.
We regularly share insights on how we approach marketing. Get on the list.