Vye President, Dan Soldner, Named Twin Cities Business Notable Executive
Author \ Clare Richards
05.10.21
---
Dan Soldner, President of Vye, has been named a 2021 Notable Executive in Marketing by Twin Cities Business. He joins 32 other individuals honored in 2021. The program was launched by Twin Cities Business to recognize leaders in Minnesota who are advancing the marketing field. Twin Cities Business describes recipients: "These 32 individuals are quick and nimble, always ready to face any challenge head-on."
Dan founded Leighton Interactive in 2009, in response to a growing number of Leighton Broadcasting clients who sought to expand their radio advertising to include web and digital solutions. The word "interactive" was a fitting and descriptive word for the market need and the solutions provided at the time. Under Dan's leadership, the company has evolved over the years. Services and expertise have expanded from solely web and digital solutions to include strategy and brand development, research, analytics and assessment, automation, campaign planning, sales enablement and more. After over 10 years doing business as Leighton Interactive, the company rebranded in 2020 to Vye to reflect that evolution.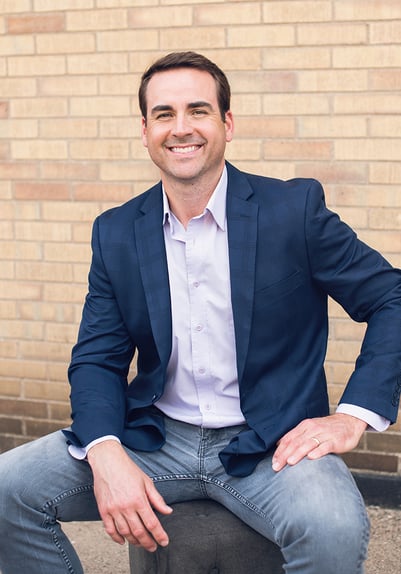 Dan was recognized as a Notable Marketing Executive not only for how he has grown Vye over the past decade, but specifically for how he led the Vye team through the challenging year of 2020. During the early days of the COVID-19 pandemic, his positivity, ingenuity, and presence quickly helped the team move to a fully remote work environment. His leadership helped create a plan to keep the business not only running, but thriving, through the tumultuous twists and turns of the pandemic. He brought the team together, openly shared the sales gap and also his goal to "remain whole" as the company navigated the year. As many businesses facing adversity were instinctively implementing furloughs or layoffs, Dan was working tirelessly to ensure the security of the team's livelihoods.
Dan's effort extended far beyond the team at Vye. He was instrumental in helping clients define new strategies and tactics that would help them recover from the destruction caused by the pandemic. He coached them on how to create digital experiences to replace in-person events, how to adopt virtual sales tactics, and how to lean into technology to overcome challenges. Even with the pressure to recoup sales for the agency, Dan made it a priority for himself and the Vye team to give back to the local community in 2020. This came in the form of partnerships with local organizations, such as United Way of Central MN and HollyBall by CentraCare. Helping these organizations adapt to a post-pandemic world has caused a ripple effect of positivity felt throughout the community.
When nominating Dan for this award, Vye Marketing Manager, Clare Richards, shared:
"During a year of strife, Dan's leadership style brought levity and hope to both our Vye team and our client partners. A rare skill indeed! Dan operates with a servant leadership mindset, always emphasizing the importance of collaboration and making a space for all to speak their mind."
You can read more about Dan's Notable Marketing Executive award in the Twin Cities Business article, posted on April 19, 2021.
Give a little.
Get a lot.
We regularly share insights on how we approach marketing. Get on the list.