VIDEO: 4 Ways to Grow Your Business During COVID-19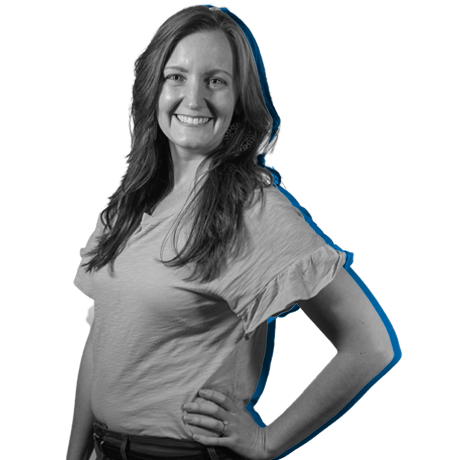 Posted on Fri, Mar 20, 2020
by Julia Brolin
In the past 24 hours, I've read countless articles and sat through two webinars one with one of my favorite PR pros, Michael Smart, and another sponsored by Cision to create these tips for you. There's a lot of elements in the world out of our control right now. The one thing we can control is our ability to learn and grow.
Your business's response in a crisis is extremely important to your brand's reputation. So here are four things your B2B company can do right now to protect and build your business during COVID-19.
1. DON'T SIT & WAIT, GO CREATE
There will be an end to this crisis, but nobody really knows when. Now is not the time to let the work slide, in fact, you should be doing the opposite. This is time for growth. In his webinar on Thursday, Michael Smart said, "The ONLY way to grow it to wake up everyday and ask yourself, What can I add more value to more people today than I did yesterday?"
As an inbound marketing agency, we create a lot of content for our clients. With most of the population in quarantine, the demand for content has never been greater. If you've ever wanted to build up your company's thought leadership, now is the time. Focus on what are you passionate about. What makes your company and process different? Create content about it. Write blogs, social media posts, and make Soapbox videos to share what's on your mind. When creating any sort of content during a crisis, make sure you are being authentic. Have empathy for your audience and do what you can to help, not sell. This is how you build trust during a crisis.
Give people an inside look at your business. If you are a restaurant that is temporarily closed, it might be time to share one of your secret family recipes for folks to make for themselves at home. This will increase engagement on your social channels while also building brand awareness in a tasteful manor.
When things begin to bounce back, YOU will be the one your audience turns to. Just like you are there for your family, and friends, be there for your customers and your industry in general. How you and your business react in a time of need will stick with your audience long after the pandemic is over.
2. Don't retreat, reach out
It's a natural reaction to withdrawal during a crisis. Let me assure you, right now is not the time to make rash business decisions and withdrawal from typical operations.
We all have revenue goals we were hoping to achieve this year, and some of us may still achieve those. Instead of focusing on dollars and cents, focus on growing your though leadership and mindshare in the industry by creating content like I mentioned earlier.
I'm sure you've been watching your competitors like a hawk seeing how they are handling this situation. The companies retreating at this moment, are likely to regret it when things begin to bounce back. Be the company to reach out.
Reach out to your customers, your partners, your employees. Let them know that you are facing the same challenges and you are with them for the long haul.
A study from Eldeman states employees are wanting to hear from their employers at least once a day. During a crisis, oversharing and over-communicating is good. It helps people feel connected, protected and in the loop on what is going on.
3. Don't plan for IF, plan for WHEN
If you don't have your comms plan, this is something to jump on right away. What will you do when someone is diagnosed? How will you notify your team? These are the questions you need to have answers to.
Cision shared a great Crisis Comms checklist. Print this out and get to work if you haven't already.
4. Timing and content type
Right now may not be the best time to launch a new product, or brand. However, consumers want to know how businesses are managing employees and that companies are taking care of their people.
Our sister company Leighton Broadcasting has done this extremely well on social media. They've posted a number of photos of their employees working remotely with their pets and coffee mugs in hand. This is a tasteful way of showing they care and have humility during the situation. These posts are not aiming to sell air time, but to bring awareness to their followers that they care about their employees health and safety. At the same time, they are expressing their values as a company which their customers care a lot about. In a roundabout way, down the road, these posts might impact a customer's decision to buy airtime.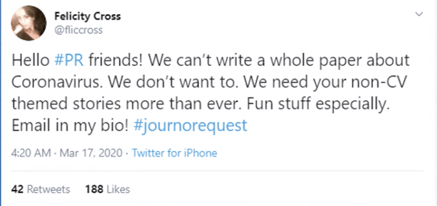 From a PR perspective, journalists ARE looking to meet the needs of their audiences. Some are even reaching out for non-COVID-19/ light-hearted topics.
Rule of thumb with timing and content, trust your gut. If you think it's insensitive, reassess or hold off until things start to level out again.
Wrap it up lady...
Our Leighton Interactive president, Dan Soldner sent out a video to our entire company this week. He said something that really stuck with me … This WILL pass. Things will not get as bad as our imagination lets them. Now is not the time to make dramatic business decisions. Take it day-by-day. My best advice is to accept the reality we are living in and adapt.
Stay home and stay healthy friends.
Topics: Video | Brand Strategy | COVID-19 Marketing