The State of Recruitment & Retention in Manufacturing
Author \ Jennifer Lawrence
04.08.21
---

Your Prospective Employees Have Options. What are You Doing to Stand Out?

Over the past 10 years, Vye has become an expert in manufacturing marketing. We've worked with countless companies across the Upper Midwest to help them refine their sales processes, create more engaging brands, market services and offerings, and recruit talent. Over the course of 2020, we saw a major shift in the sector, unlike anything we've seen before.
To say that the Covid-19 pandemic put manufacturing companies at risk is an understatement. From production lows and shutdowns to production overloads (in some cases, upwards of 180% capacity) coupled with supply chain pressures driven by unrealistic timelines and materials and logistics challenges. All of this, while also enforcing new safety protocols in order to ward off an untimely shutdown due to a COVID-19 outbreak.
Needless to say, manufacturers have not had an easy go over the past 12 months. And the next 12 look to be equally challenging.
As we watched our manufacturing partners endure these tremendous challenges, we saw a trend emerge.
97.4% of companies we surveyed in the Upper Midwest intend to hire in 2021. Everyone is in desperate need of qualified candidates. In a recent survey by the Federal Reserve Bank of Minneapolis, one in six businesses in the region said their biggest challenge is labor availability.
As a country, we are experiencing unemployment rates unlike anything we've seen in recent years. According to the Congressional Research Service, "The unemployment rate peaked at an unprecedented level, not seen since data collection started in 1948, in April 2020 (14.8%) before declining to a still-elevated level in December (6.7%)." Despite this, it seems to be an impossible task for many manufacturing companies to find qualified workers.
What's going on?
Theories vary, but it seems to come down to a few key factors:
Baby boomers who would have retired in 6-10 years have decided to retire early to stay safe
Lack of childcare prevents parents from re-entering or staying in the workforce
Those who are unemployed (from industries like hospitality, food, etc) disqualify themselves because they don't believe they have the skills required
Some prospective employees are holding out to see if their previous employers will hire them back
Many industries are hiring, and manufacturing doesn't appeal to a broader market of prospective employees—i.e. A negative perception of the industry
With the additional unemployment relief compensation implemented in the wake of COVID-19, entry-level workers are in some cases discouraged from seeking employment, as the amount they are getting matches (or exceeds) what they could earn

What comes next in manufacturing recruitment and retention?
Knowing that our manufacturing partners faced these challenges, we set out to create a resource to help them. In this digital e-book, we outlined strategies to build and sustain a recruitment and retention plan that works. Our goal was to arm hiring departments with the insight to help them attract—and keep—the right people during these uncertain times.
To create this resource, we conducted a survey of manufacturers in the Upper Midwest. The survey generated 38 responses from companies ranging from under 50 employees to over 1,000 employees. We facilitated a roundtable discussion in partnership with the Greater St. Cloud Development Corporation. We also did an immense amount of digging into relevant surveys and research from reputable organizations conducted across the U.S.
What were our top findings in the robust resource?
Employers need to better understand and define their ideal candidates. They must uncover the nuances that describe their ideal target audience on a per-position basis.
In a competitive marketplace, employers must find ways to stand out. This can be done through quality career page content and technical website optimization.
Armed with a better understanding of their target audience, employers must then distribute opportunities on the right channels. This often requires a multi-channel approach.
Building a strong employer brand is a future-focused effort that growth-minded employers will embrace. This involves everything from promoting competitive benefits to highlighting employee stories.
The onboarding process can greatly influence longevity of an employee. Nailing this process is critical, and requires a balance of human interaction and automation technology.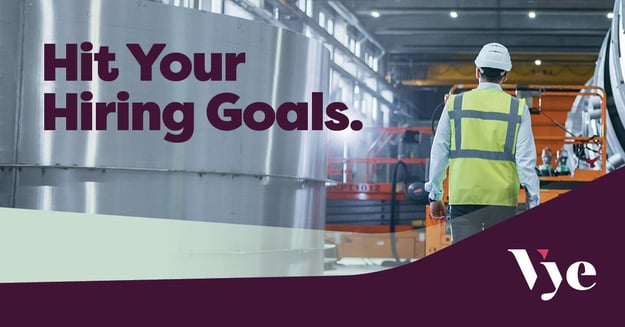 These points scratch the surface of what can be accomplished to amplify your manufacturing recruitment and retention efforts. If you're looking for key insights and actionable advice, check out our full feature resource: Master Guide to Recruitment & Retention in the Manufacturing Sector.
Give a little.
Get a lot.
We regularly share insights on how we approach marketing. Get on the list.