Manufacturers Need to Work Together to Meet Hiring Needs in 2021
Author \ Clare Richards
06.10.21
---

What are You Doing to Improve Regional Branding?
In February of 2021, in partnership with the Greater St. Cloud Development Corporation, we were able to facilitate a roundtable discussion with manufacturers from the Central MN region. This conversation contributed to a larger initiative to develop a robust resource around manufacturing recruitment and retention. In addition to the roundtable discussion, we facilitated a survey with manufacturers from the Upper Midwest.
Something that came up frequently, both in the data and in our initial roundtable discussion, was the challenge of regional branding. In this particular case, the region we are referring to is Central MN. But this insight will apply across the Upper Midwest.
When we surveyed employers about their biggest challenges for finding qualified candidates in 2021, here's what they shared: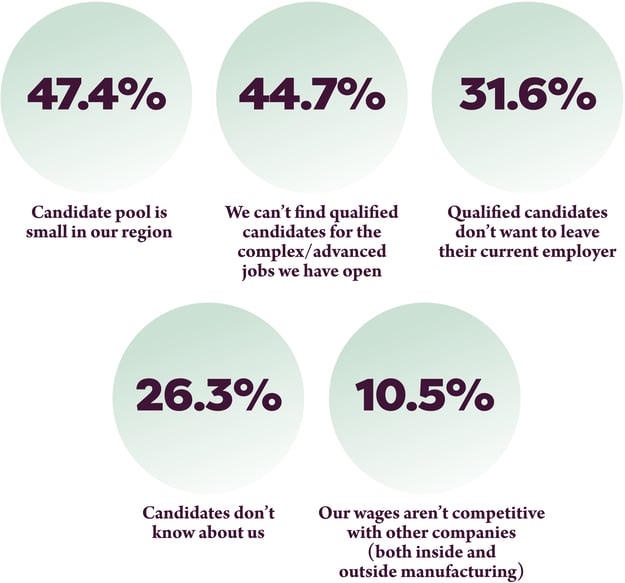 Much of the survey results can be attributed to a regional attraction issue. The reality is that few employers have a desire to steal employees away from other manufacturers in their region. In turn, employers struggle when their own talent is recruited by other companies.
Perhaps the most impactful solution is to attract candidates from outside the region. This solution is complex. It requires an enormous collective effort on the part of employers, economic development organizations, and educational institutions. With the ultimate goal of drawing talent from outside the region, dedicating time and resources to telling the story of manufacturing in a region can be incredibly powerful.
There are a number of challenges that would benefit greatly from a cross-sector, collaborative effort. Here are some of the top communal challenges we uncovered in our discovery process:
Lack of childcare options (especially outside of the standard 8-5 workday hours)
Lack of appeal in high school students (they don't see manufacturing as a worthwhile pursuit)
Misunderstanding of the industry (perception that it is dirty, poorly compensated, etc.)
Assumptions about transferable skills (many outside the industry don't understand how their skills could translate)
Lack of resources to implement Diversity, Equity, and Inclusion (DEI) efforts (resources and expertise)
Lack of pride in the industry (not enough awareness about the impact of the manufacturing industry on the local economy)
We challenge you to find ways to partner with local entities to make broad shifts to improve the brand and perception of manufacturing in your region. This could include organizations like a regional manufacturing association, Chamber of Commerce, economic development center, United Way, and more. What are tactics you could implement together? Here are a few ideas:
Organize education support & resources: Create a pool of participating companies that are willing to present to classrooms and give tours regularly. Build relationships with educators in the region.

Create or participate in events:

Get involved in events that promote the industry and connect companies to prospective future employees. These are often done through educational institutions - K-12 and beyond. A great example of an event like this is EPIC (Exploring Potential Interests & Careers) in Central MN. Another is FutureForward.
Tell the regional brand story: Create engaging video and written content that tells the story of manufacturing in the region and how it contributes to community stability and wellbeing. Create a sense of pride, highlight incredible stories, dismantle assumptions about compensation or dirty jobs, and reinforce the positive impact of manufacturing in the region.
Collaborate on community issues: Gather working groups of passionate individuals from multiple companies to tackle core community issues like lack of childcare. These initiatives often exist within organizations like United Way. Don't reinvent the wheel if you don't have to. Instead, align forces.
Implement geo targeted paid media: Create a general brand campaign that promotes manufacturing within a region.
Need help getting an effective, cross-sector collaborative effort in place? We can help. Get in touch.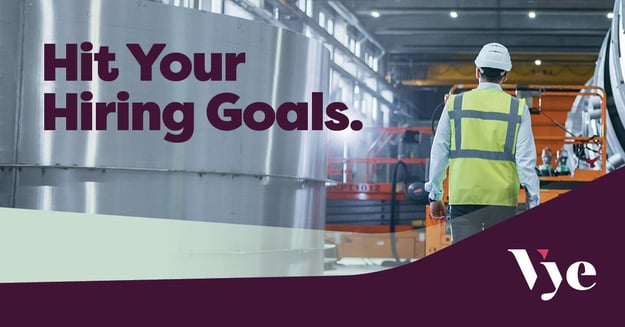 These points scratch the surface of what can be accomplished to amplify your manufacturing recruitment and retention efforts. If you're looking for key insights and actionable advice, check out our full feature resource: Master Guide to Recruitment & Retention in the Manufacturing Sector
Give a little.
Get a lot.
We regularly share insights on how we approach marketing. Get on the list.