Dear 2020, Goodbye & Thank You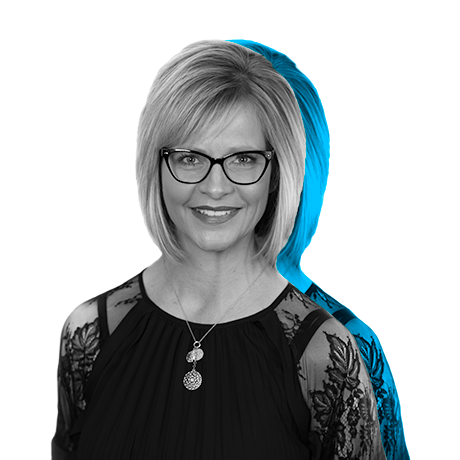 Posted on Wed, Dec 30, 2020
by Tammy Moore
2020 has, in many ways, been the year of extremes:

And around and around we continue, until we find ourselves in this place. Looking this strange year in the eye, wondering if we should punch it in the face or kiss it on the lips.

As is often the case in life, among the pain and challenges we find triumphs and joy.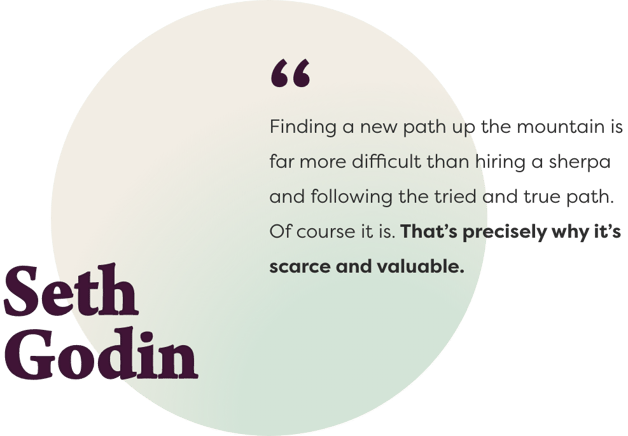 For the Vye team, this year meant digging deep, turning over ideas, looking high and low and seeing in between the challenges to help our clients find new paths. Before we bid farewell to 2020, we want to celebrate some of our clients' biggest wins of the year.
A thriving business, with a soaring customer service call volume, Pinnacle needed a solution that would allow them to maintain their commitment to service while at the same time, release the pressure valve for their customer service team. In our initial exploration with the Pinnacle team, we learned that repetitive questions, long customer hold times, and frustration with lack of alternative service channels were the biggest challenges—for customers and employees.

The solution was a searchable knowledge base, with frequently asked questions and answers, which served as the hub and database for a customer service chatbot. The results are still rolling in, but here's what we're seeing so far:
Customers are loving—and using—the chat function to answer basic questions that are quick to resolve and do not require intricate explanation or contribution from a customer service representative. This relieves the stress of answering repetitive customer inquiries, which were monopolizing incoming calls and the precious time of customer service representatives.
The self-service option has helped to curb customer hold times and the associated frustrations for customers and employees alike.
Lower call volumes and hold times allow customer service representatives to focus their time on more complex, or multi-step, issues. This increases customer and employee satisfaction.
The knowledge base helps the overall function of the website, providing valuable content optimized for search engines and key term research. The knowledge base provides consistency for employees, ensuring the same information is being relayed to customers.
The knowledge base also serves as a great training tool for onboarding new employees.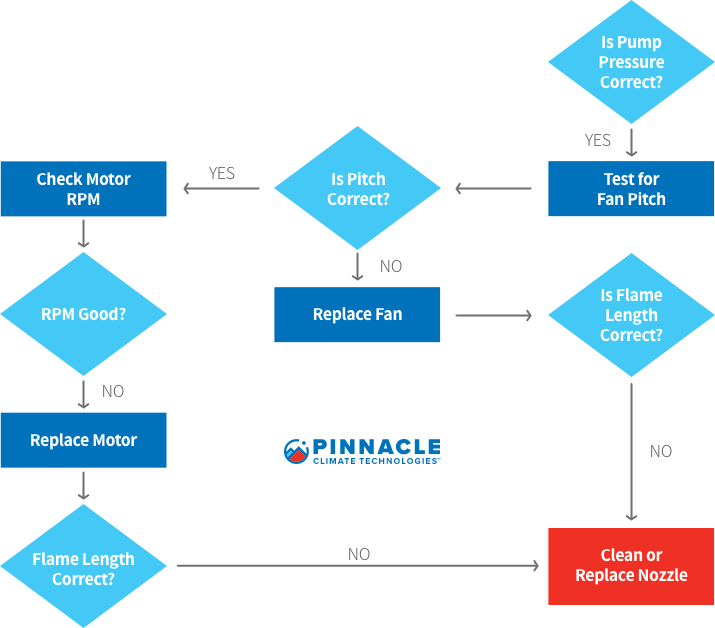 A pioneer in the energy field, Blattner was vying to showcase their expertise and experience through a revitalized BlattnerEnergy.com website. The website brings the Blattner brand, and their commitment to an "Up and To The Right" culture to the forefront, featuring the people and partners behind the company's success. In addition, the launch of the new Powered Up Culture program, (for which we built a landing page and nomination form) is a platform for employees to recognize each other for accomplishments, the ways individuals bring the company culture to life, and make Blattner a premier employer. In continuing their focus on employees, leadership, and internal communications, the Blattner Brilliance podcast (created for Blattner employees) was also launched this year.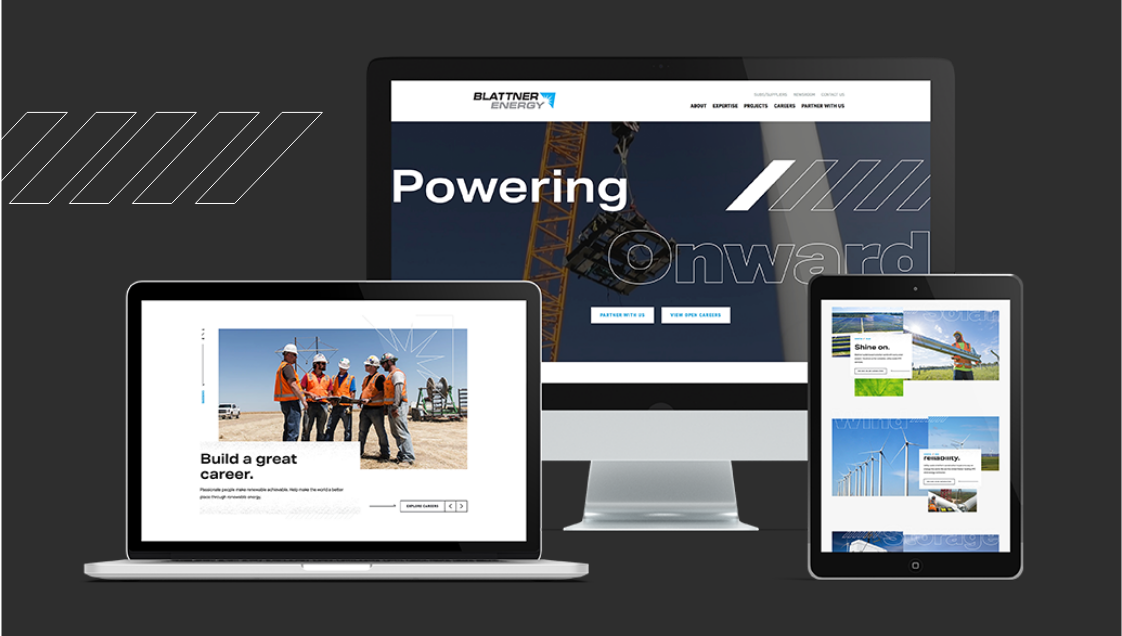 If ever there was a year to be Here for People, it was 2020. KAJ was ready to introduce their Here for People brand campaign earlier this year when the COVID-19 pandemic forced a mass scaling back of the hospitality industry. A series of hard decisions and precise planning led them to reopen much of their business this fall while at the same time, affirm their commitment to the employees, guests, and partners who reside at the center of their company. Here for People is more than a brand campaign, a new website, and countless supporting tactics. Here for People is a testament to leadership, values, and holding strong during hard times. We're happy to be Here for KAJ.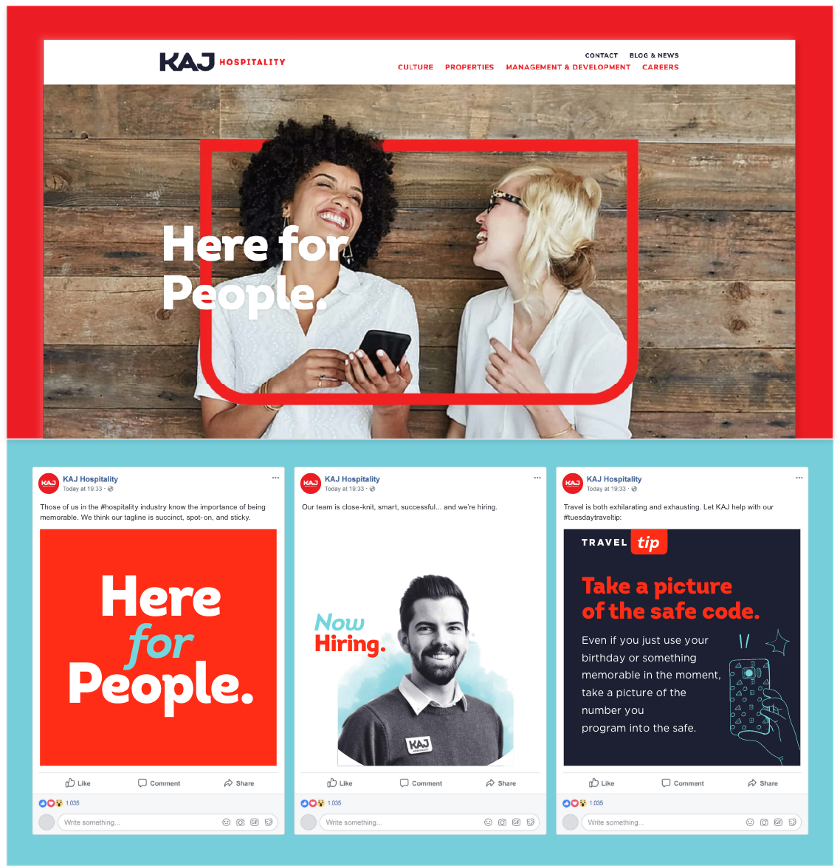 This specialty logistics company saves the day for customers who need to haul complex, oversized freight. This year, Ascent Specialized made a bold move to build an independent (but connected) brand from their parent company, Ascent Global Logistics. A rebrand, a new website, Request a Quote form, a social campaign, and sales training with a customer relationship management (CRM) tool helped this hidden gem of a company step into their well-deserved success. The results of their marketing efforts (achieved on time and within budget) were bold: nearly 2x the site visits per month and 7x increase in Request a Quote submissions. To add to the sweet success, these efforts earned Vye the distinction of the 2020 Grow Better Website Design regional winner for HubSpot Q3 Impact Awards.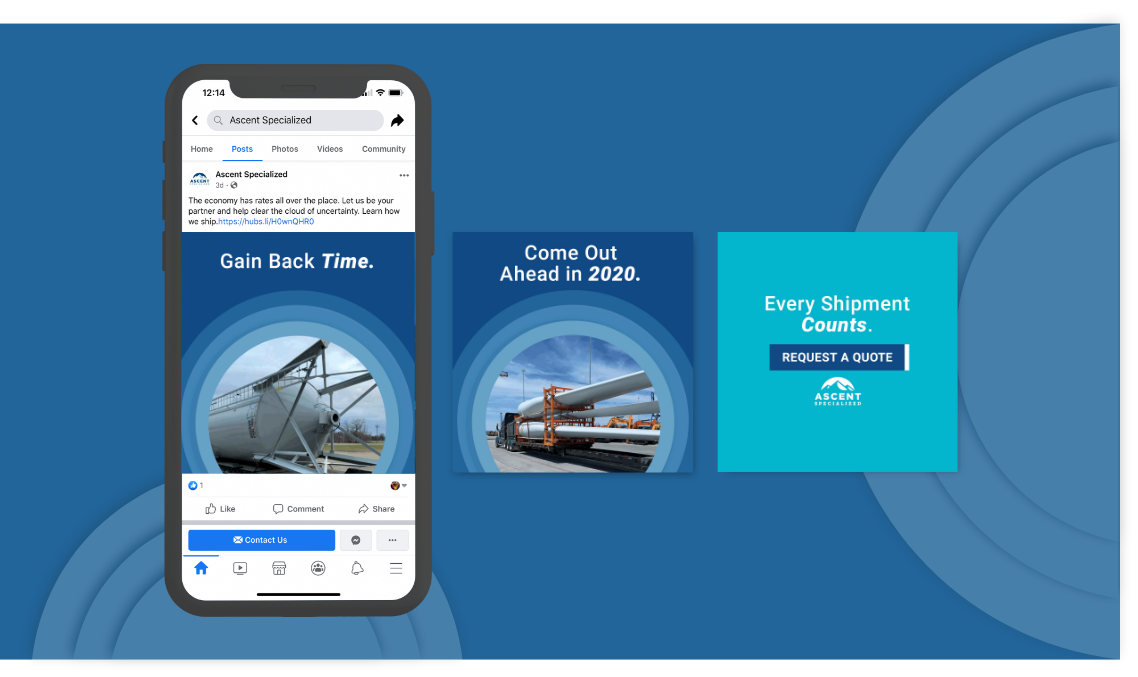 2020 was a critical time for critical manufacturers. With the COVID-19 pandemic, Mead Metals seized an opportunity to accentuate, and reposition, their expertise and share it with current and new customers. With sales enablement in mind, we worked with the Mead team to create an email and web strategy featuring the metals most often used in manufacturing medical equipment and their specific parts. Additionally, we reconfigured the homepage of their website to feature the four metals and a strong call-to-action. The plan came together quickly and early in 2020, and its had a major impact in driving revenue and leads. Website visits are more than double those achieved in 2019, new contacts are up 175%, and they've received 48 customer reorders so far this year. An added—and noteworthy—result is the company's impact on the medical community and the patients they serve.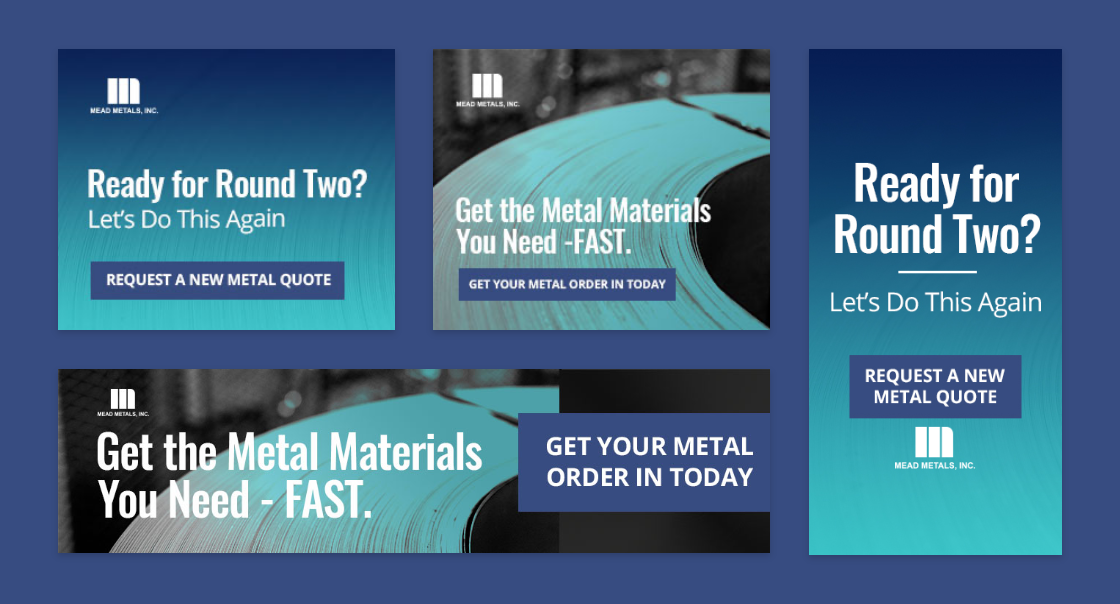 Never underestimate the impact of thought leadership. It can be easy to disregard the knowledge we have of our industry, our craft, and the value we bring to the world in big and small ways. Strategically sharing our expertise can be the very thing that calls people to attention and inspires them to take action. Earlier this year, we worked with the Kern team to showcase their customers who were using Kern laser technology to manufacture personal protective equipment (PPE). Noticing Kern's customers were sharing on their social media channels the positive impact they were making with their laser systems, we made a plan to leverage this user-generated content (UGC).

UGC is gold in terms of reach. Beyond sharing, commenting, and continuing the conversation online, Vye saw a thought leadership opportunity for Kern. We advised Kern Laser's President, Derek Kern, to write an article "7 companies using laser technology to combat COVID-19," and leveraged our public relations services to get a feature in "Industrial Laser Solutions," an industry publication with a readership of 15,000 manufacturers. The article became the second most popular article on the "Industrial Laser Solutions" website in April, resulting in 88 sessions on the Kern website from new visitors (a.k.a. potential new customers).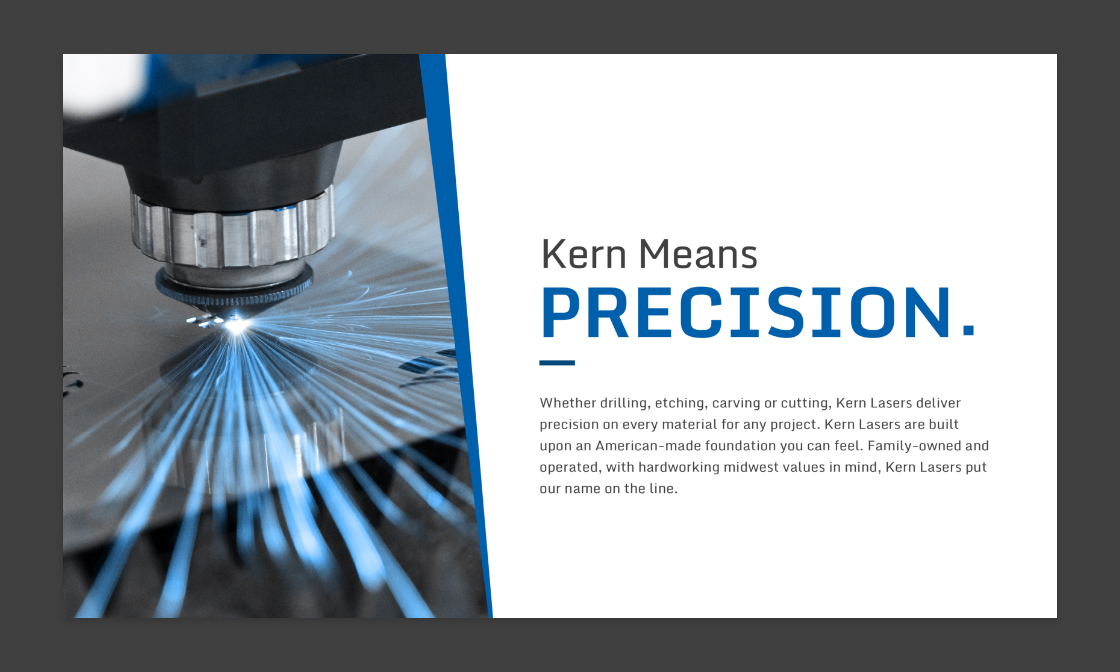 This year, Falcon National Bank helped more than 400 companies apply for the Paycheck Protection Program (PPP) in response to the COVID-19 pandemic. As a community-focused bank, Falcon was able to do what many large banks are unable to do: respond quickly and efficiently to the needs of local business-owners and get them the needed funds through PPP.

With a strong desire to continue to serve the small businesses (some of them new to Falcon), we helped the Falcon team develop an ongoing communication strategy to help nurture the small business owners into a deeper relationship with the bank. Through a series of workflow emails, video content, and landing pages, we developed an experience that showcased Falcon as the expert in a way that was results-oriented and a personal testament to their care and service.

Undoubtedly, 2020 will go down as a complex, confusing year. But one thing is absolutely certain: it will be known in our history book as the year we completed our chapter as Leighton Interactive, and turned the page to Vye: a rebrand, a reposition, and a full commitment to redefine marketing as a measurable growth investment. This feels right for us, but more important, it is right for our clients.

You can learn more about the work on our brand (a labor of love) and the meaningful coverage we received with articles such as "Rebranding for better alignment: How marketing, brand & PR work together," from Agility PR Solutions.
We also launched the new Rally for Results vodcast, helped many clients pivot their marketing efforts to survive (and thrive) through the COVID-19 pandemic and landed several exciting new clients along the way. We also supported one of our favorite charitable organizations as the social media sponsor of 2020 Holly Ball (raising funds and awareness for St. Cloud Hospital Hospice) which was virtual this year. (Our promotion included a Holly Ball vodcast series and an amped up social media campaign).
The good work and lessons we've accumulated this year are many. Too many, in fact, to share them all. So, we leave you with a few thoughts from the Vye team that we hope will serve as a springboard to 2021.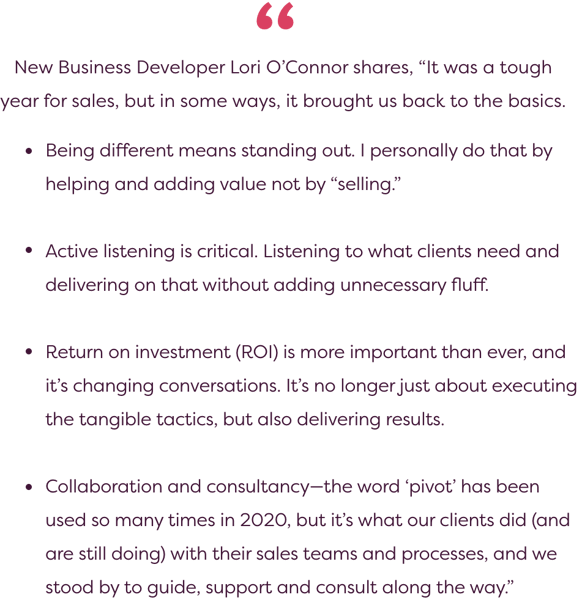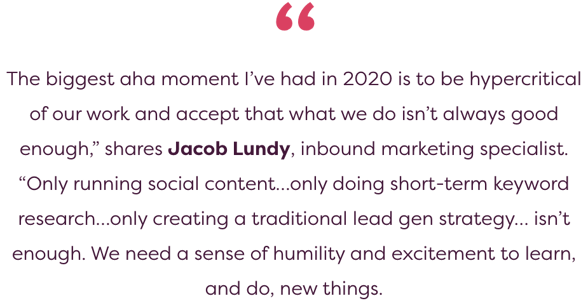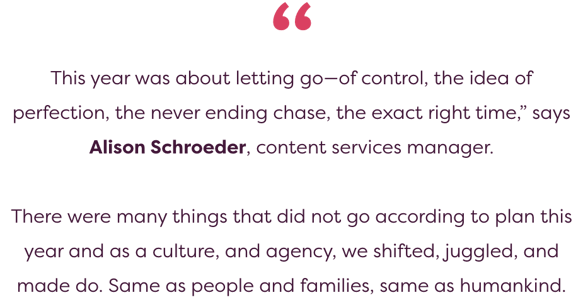 Goodbye, and thank you,
2020

.
Topics: Customer Satisfaction | Inbound Marketing