COVID-19: 3 Social Media Tactics and Their Results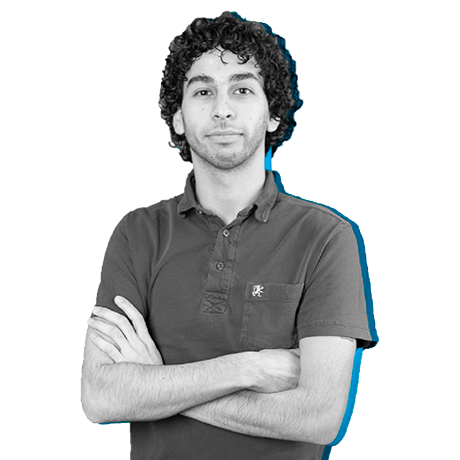 Posted on Mon, Apr 27, 2020
by Jacob Lundy
Social media in a time like now... where do I begin? My first thought was this passage featured on Databox regarding how sudden impacts of the virus are affecting businesses — written by our Account Manager, Amanda Sleger.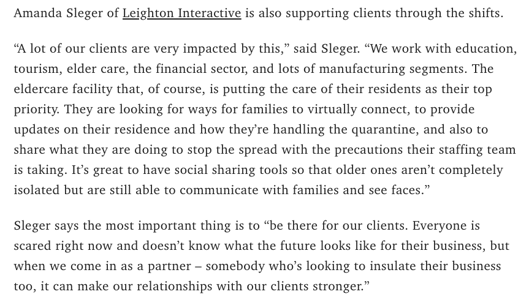 This quote (posted on our social media channels as well) — along with others ranging in industries from critical manufacturing and senior living to nonprofit and consumer packaged goods — empowered our team to tackle many different social media tactics. All of which had similar themes. Here are three we believe will be most valuable to your business.
Table of Contents
3 COVID-19 Social Media Tactics
First, ask yourself: "During the COVID-19 pandemic, what do my customers care about ... ?"
This should be at the core of any sound social media strategy — and it revolves around social listening.
1. Listen to What People are Saying
Social listening. This one seems so easy, yet can make your business plan nearly impossible if you're not actually listening. Often times, this is confused with hearing (not even close to the same thing).
You need to listen.
And there's a difference between social listening and social monitoring. Sometimes, these two get mixed up. Put so well by SproutSocial:
"Monitoring tells you what, listening tells you why."
Our team uses BuzzSumo to find out which content is resonating best with targeted keywords or phrases.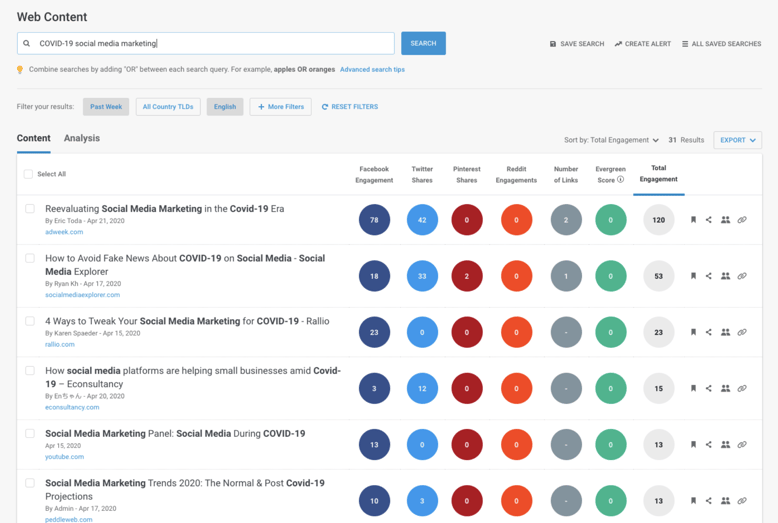 This tool is extremely helpful to understand what people are saying that's backed behind data. How many engagements are they receiving on Facebook? Is your main focus Twitter? If so, which articles on your topic resonate the most i.e. have the most shares associated with it?
That tells you the what. Then comes the fun part. You need to analyze the articles ranking well on social media and decide, do these really matter to my audience? If so, why? During this step, it's crucial you have your Buyer Persona ready. If you haven't created a Buyer Persona yet, you can do so for free in our Ultimate Marketing Toolkit offer.
Social Listening for Truck Drivers, Essential Service Workers
One of our clients we helped at the beginning of the pandemic is Clearwater Travel Plaza. They are a nationally-recognized truck stop located in Central Minnesota. Supporting truck drivers who keep America running is a high-priority for them. During our social strategy, we found this article by USA Today talking about how these essential workers are braving the outbreak to deliver goods across the nation.
"If we stop, the world stops."
The messaging became clear to our social media team. We need to remind these truck drivers Clearwater Travel Plaza supports and values them during this time. To do this, we published a post on Facebook sharing Clearwater Travel Plaza's expanded their made-to-order to-go breakfasts and dinners to seven days a week.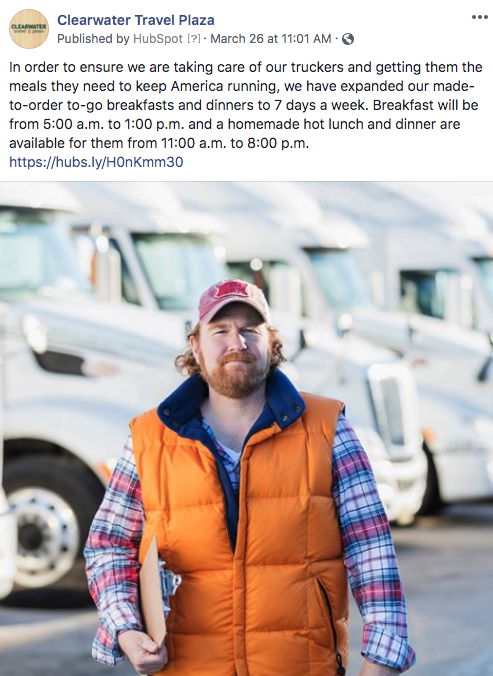 This post had two goals:
Show truck drivers they're appreciated.
Show the rest of their customers (travelers and others who enjoy eating/shopping at Clearwater Travel Plaza) that truck drivers are essential to keep America running.
It aligned with what we believed to be how truck drivers wanted to be portrayed currently. Stoic, calm, proud — even the image we chose aligns with these goals.
The Facebook Engagement
Clearwater Travel Plaza's Facebook page does well with engagement, but what caught our eye was the number of shares: 59. Compared the comments and likes — our team (and many other brands, according to AdWeek) favor shares over all else. Why? Because this instantly changes a lead to also become an evangelist — or rather, a customer who has advocated for your organization, according to HubSpot.

We took notice of these metrics but also wanted to know how posts like this helped drive their overall website traffic? We reviewed similar Facebook posts, then pulled their data in HubSpot, measuring the number of website sessions from Facebook from March 17-April 17 (a one-month period from Clearwater Travel Plaza's initial COVID-19 Facebook post) against the previous period. Here's what we saw:
Homepage Views from Facebook After COVID-19 Efforts (March 17-APril 17)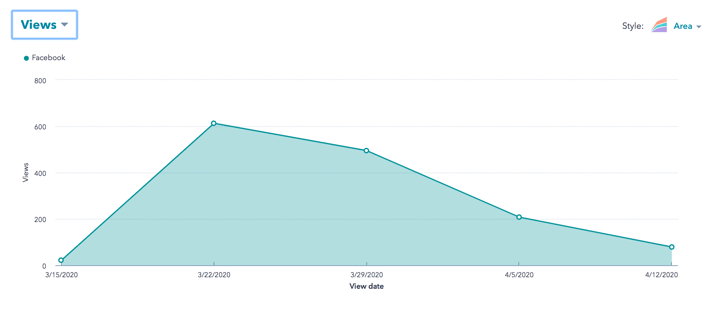 Homepage Views from Facebook Before COVID-19 Efforts (February 16-March 16)
3,836% Increase in Traffic From Facebook

Yes — you read that number right. Traffic to their Homepage increased by 3,836% from Facebook in this 30-day span. That is huge. 1,417 views from Facebook after our team started to help Clearwater Travel Plaza push social content aligning with the needs of their customers (truck drivers being a huge portion of their customers) during the COVID-19 pandemic. The previous period for views on Facebook before we shifted their tone/voice and efforts? 35.
The Call-to-Action Data
Now, with their end goal being call-to-action (CTA) clicks of their updated menu on the Homepage, here's what we saw with the combined timeframes (February 16-April 17):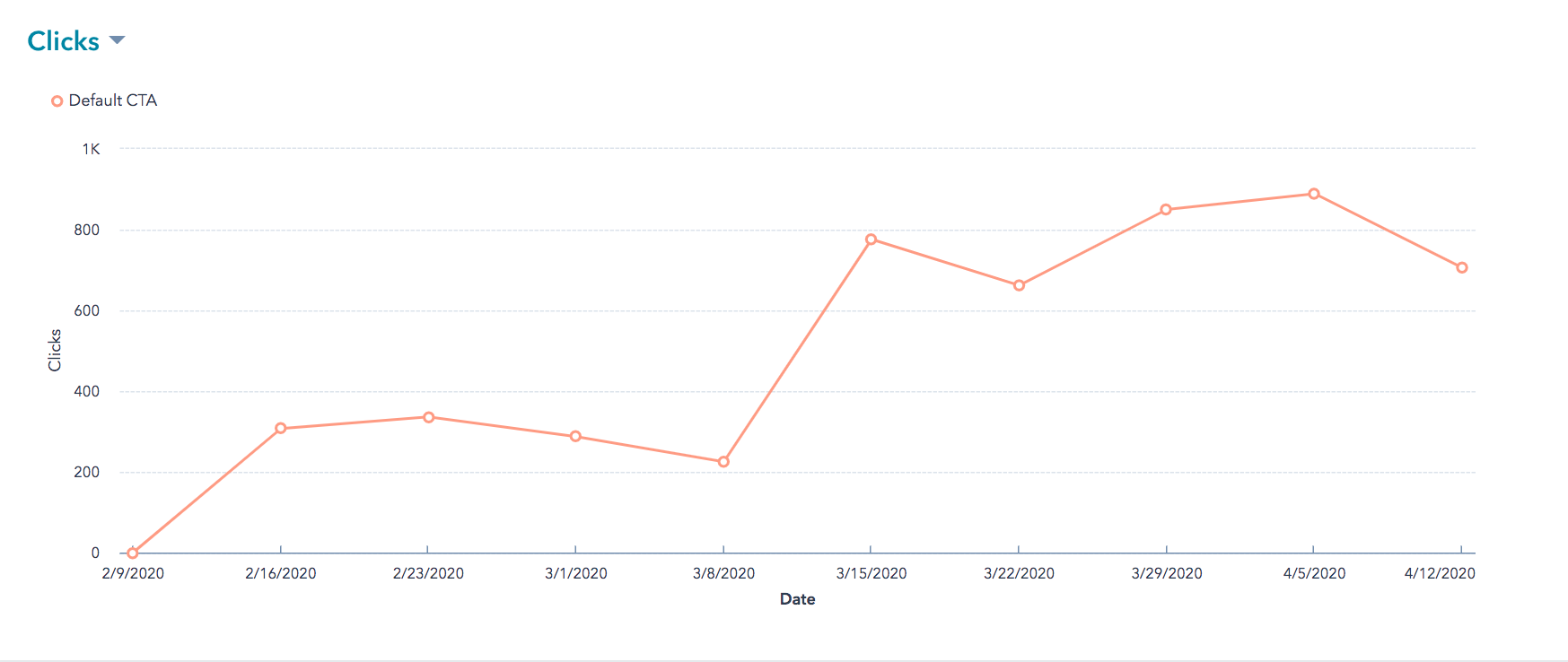 February 16-March 16 CTA Data
CTA Views: 2,286
CTA Clicks: 1,196
March 17-April 17 CTA Data
CTA Views: 13,460 (489% increase)
CTA Clicks: 3,842 (221% increase)
Talk about tangible proof of COVID-19 social media tactics in action.
2. Optimize Your Social Channels with Hashtags
How can you gain authority over a particular social media focus? Often, this is correlated with hashtags. Hashtags are available on Twitter, Instagram, LinkedIn, and even YouTube. But simply placing a hashtag or two on Twitter isn't enough. You need a more cohesive strategy to align a campaign with a specific hashtag. We were thrilled to help bring this to life through a local nonprofit in our community — United Way of Central Minnesota.
A Nonprofit's COVID-19 Relief Fund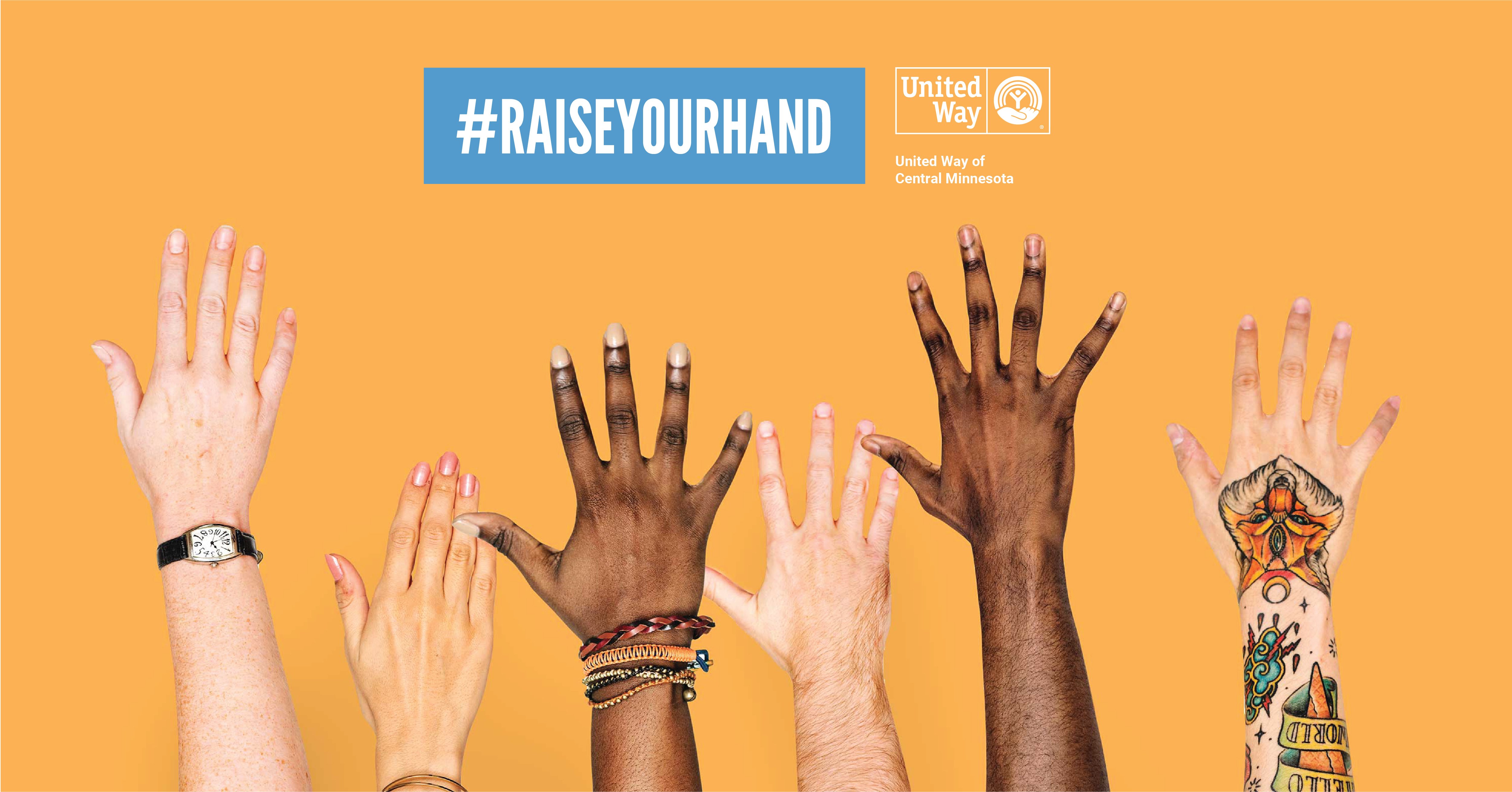 #RaiseYourHand — a 2020 rally cry for our client, United Way of Central Minnesota, creates a positive movement that encourages people to simply raise their hand. That's the first step and one that's easy to take. The United Way of Central Minnesota will take it from there. However, with the massive shifts due to the COVID-19 pandemic, part of their focus needed to change.
United Way of Central Minnesota asked us to help promote its new COVID-19 Relief Fund aimed to provide urgent and necessary funds for the emerging and critical needs of our community due to the Coronavirus pandemic. They were looking for us to create a "calm in the storm" while maintaining consistency in within the current campaign. Our team analyzed their social accounts and realized tackling authority on one specific hashtag could help boost their exposure to their fund. The result: #COVID19ReliefFund. Below is how our team brought it to life.
Twitter Hashtag Searchability
Hashtags originated on Twitter back on August 23, 2007 by Chris Messina (true inventor of hashtags). Yes, it's worth noting since you are looking to grow your social media. Know thine social media history. Or, something like that.
Our team uses a handful of resources to discover performance of hashtags (like RiteTag). Twitter hashtags have the most robust results — hands down — which is why we used it in our social strategy for the United Way of Central Minnesota. What do the metrics look like for #COVID19ReliefFund? Here's what RiteTag told us:



"Use this hashtag to get seen now." With a Twitter account of roughly 309 followers before launching the COVID-19 focused hashtag efforts, we knew this meant a couple of things.
The overall number of followers would likely not grow much without Twitter paid efforts.
The main focus here would (and should be with a small following) impressions to gain more exposure, which will ultimately lead to more followers, engagement, and post clicks.
We wanted to help United Way of Central Minnesota gain exposure on Twitter. One idea was to update their Twitter name (not to be confused with their Twitter @handle) and bio description to include the hashtag — #COVID19ReliefFund.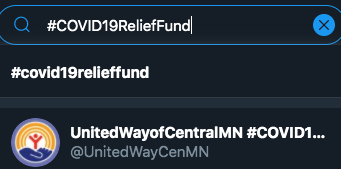 By adding the hashtag to the bio description, they gained searchability for this particular focus. By adding it to the name itself, they gained a clear way for anyone who views their account to learn about its COVID-19 initiative.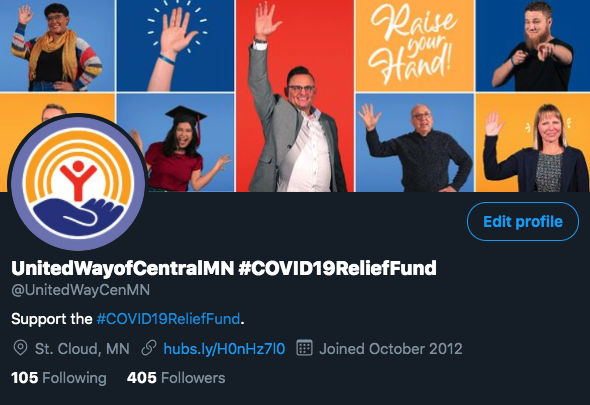 We made this update during the week of March 16, along with starting to push their COVID-19 Relief Fund web page tactics. Here's the change in impressions from March 13 (weekend prior to our shift), all the way up to April 9 – a 28-day period that Twitter is able to provide natively on its platform for free.
March 13-April 9 Twitter Impressions

This told us that part of the reason impressions improved was because of how we were utilizing this specific hashtag on our Twitter profile, along with accompanying Tweets in this time range. Here are some examples:
And although the Twitter metrics available are limited to a short timeframe, we have taken notice to some important other distinctions pulled. The biggest being the top-performing Tweets for impressions in March and April. Both of which were focused on the COVID-19 Relief Fund.
Impressions alone weren't enough to intrigue our team though. We wanted to know how this campaign weighed against our 2020 campaign (Raise Your Hand) for other Twitter metrics. Here's what we discovered:
Raise Your Hand Campaign Social Data
This campaign began social posting on March 10. Metrics below are March 10-April 23.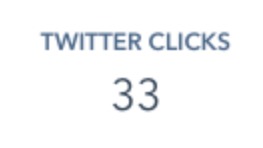 COVID-19 Campaign Social Data
This campaign began social posting on March 18. Metrics below are March 10-April 23.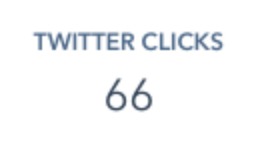 Double the Twitter Clicks
Noteworthy item here is the number of scheduled Tweets for each campaign:
2020 (Raise Your Hand): 16
COVID-19: 20
Even though we sent only a few more Tweets for the COVID-19 focus, we saw double the amount of Twitter clicks. Literally. Double.
Again, with a smaller following that's not huge – but you need to look at the whole picture. We saw a massive increase when comparing the two.
Below is how this tactic ties into their other social media efforts.
69% More Sessions
Below are the number of website sessions brought in during this all-time period (March 10-April 23) from all of their social media channels (Twitter, Facebook, and Instagram).

Raise Your Hand Campaign Social Sessions: 149
COVID-19 Campaign Social Sessions: 253 (69% more overall sessions)

Sessions from Twitter: 8 (60% more Twitter sessions)
Why are these numbers important? One of United Way of Central Minnesota's key-performance indicators (KPIs) are the number of website sessions.
And though a majority of this social session increase came from their Facebook page, it's not their only KPI. Another being, social media engagement — including (Twitter) clicks. Google does an excellent job of explaining why these two metrics may look different.
Our team expects to see a similar, growing trend with this specific hashtag focus on Twitter, leading to more impressions, followers, clicks, and website sessions for their Tweets.
3. Enhance Your Social Reach and Engagement through Trusted Publications
Yes. This does bleed into Public Relations a bit – but ultimately, you want to get more exposure on social media and verify yourself as a trusted voice in the noise. How can you do that? Simple – team up with the trusted sources your Buyer Persona cares about. Our Public Relations guru, Julia Brolin, nails how to do this in her VLOG.
Here is how we combined social listening and PR for Kern Laser Systems, a laser manufacturer who's customers are assisting in creating PPE for healthcare workers and beyond.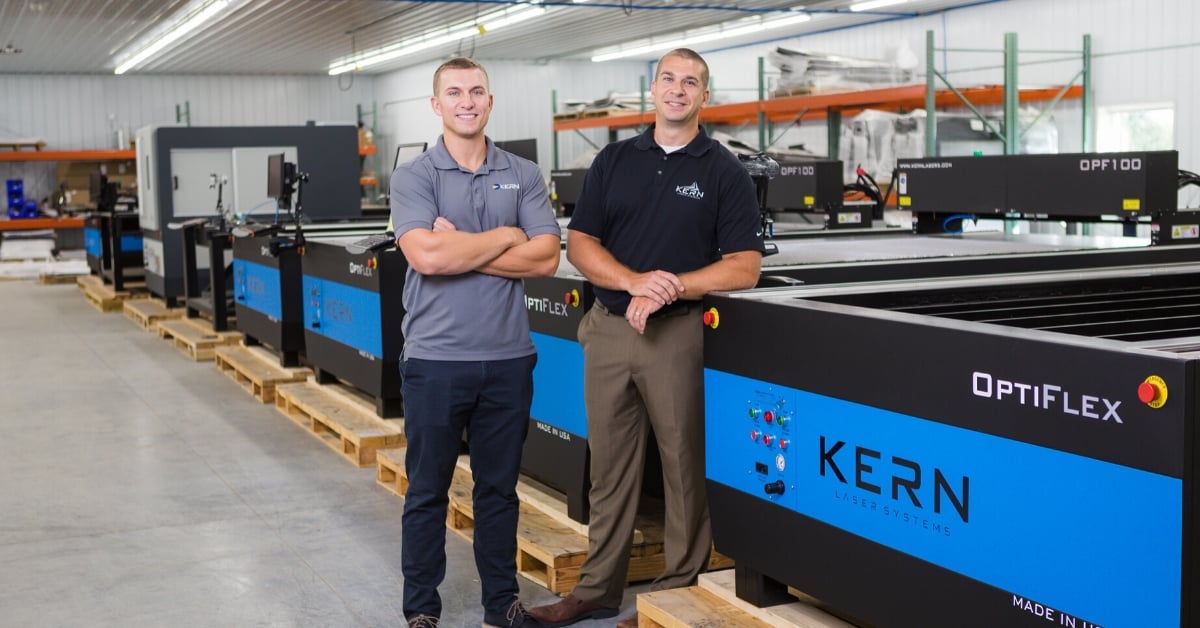 Kern and LI Listened to The Customers
Social listening. Just. Do. It. It was the catalyst that launched an end result we saw as noteworthy in our books (and Kern's) — getting featured in Industrial Laser Solutions for Manufacturing.

This was a combined effort of Kern and Leighton Interactive recognizing how Kern's customers are quickly shifting to focus on manufacturing their original products to medical supplies, like PPE equipment. This LinkedIn post by WOODCHUCK USA (Kern's customer) ignited the fire.
We saw the opportunity to share great work Kern's customers were doing. We listened. We launched a blog to feature all of the amazing things some of their customers are currently doing. The spark? Social media.
We have a few posts lined up in the near future for Kern regarding these new articles they're featured in from trustworthy publications. We have no doubt these will get some solid traffic to their website (for their blog) and engagement from posting the third-party article (Industrial Laser Solutions for Manufacturing).
Share Trustworthy THird-pArty Sources
Kern sees Industrial Laser Solutions as a trusted source that has value within its audience. We knew getting their CEO authorship on an article would be extremely powerful. And the best part? You can (and should) share content like this within your social media following. Your followers don't want to be bombarded with your content; it defeats the point of Inbound Marketing. Instead, combine social listening with your Public Relations strategy to get a wealth of social media content and tag some of that content with third-party sources to provide value to your viewers. This falls in line with the 80/20 social media rule.
Social Media Publications We're Reading
Speaking of the 80/20 social media rule, here are some companies we follow and share content to inspire us, keep us up-to-date, and ultimately – help us help our clients with their social media tactics.
Leighton Interactive Social Media Accounts
Discover what we're saying on our social media channels amidst the COVID-19 pandemic:
COVID-19 Response Strategies Guide
If you're ready to get an actionable social media marketing plan set up, download our free COVID-19 Response Strategies Guide. In it, you'll get tactics to improve your messaging and ideas on what your social media content could look like. And of course, there are other inbound marketing tactics included in this free offer to help you connect all of your #COVID19Marketing efforts.
From one social media marketer to the next, Leighton Interactive is wishing you the best during this difficult time.
Topics: Social Media | COVID-19 Marketing