Clare Richards, Marketing Manager at Vye, has been named a 5 Under 40 award recipient by the St. Cloud Times/Local iQ. She joins 80 leaders honored in this program since its inception in 2005. The program was launched by the St. Cloud Times/Local iQ to encourage, support, and connect the next generation of Central MN leaders. Recipients are chosen based on workplace acumen, impact on the community, and their potential to influence the local professional and public service landscape for decades to come.
Source: St. Cloud Times, Dave Schwarz and Sarah Kocher
Clare has been an employee at Vye (formerly Leighton Interactive) since 2014, and has served in a number of roles since joining the company. As Marketing Manager, she focuses on client strategy and agency marketing. She's known around the office for her enthusiasm, passion, and creativity. She's also been known to break out her ukulele on special occasions.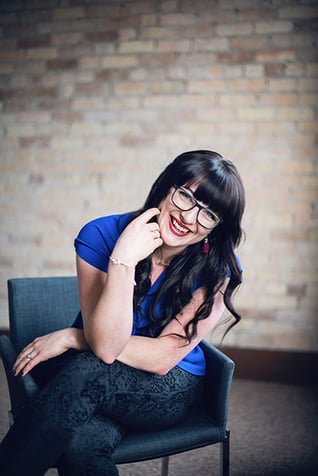 Clare is the host of Rally for Results, a sales and marketing vodcast (video + podcast) that covers the innovative things companies and individuals are doing to unite their sales and marketing for epic results.
Within the Greater St. Cloud community, Clare is known for her work with the non-profit organization Saint Cloud Rotaract. She started Rotaract, along with her husband Brandon, in 2015. Since then she's served in a variety of leadership roles, and currently serves as the District Rotaract Chair, overseeing several Rotaract clubs in the central region of MN. Clare is involved in several other community-centric groups, including the GSDC Young Leaders Cohort and the CentraCare-led Communities of Excellence initiative. She is also a community dancer in the Women's Fund 2021 Dancing With Our Stars fundraising event. She will be raising money on behalf of the Central MN Child Advocacy Center.
Clare graduated Summa Cum Laude from St. Cloud State University with a Bachelor of Fine Arts in Graphic Design. She was also the recipient of the Central MN AdFed Emerging Leader award in 2018. She shares:
"I know there are a lot of phenomenal leaders in Central MN who are very deserving of this award. I'm incredibly grateful for the honor. I look forward to continuing my work—both my professional and community-centric work—for years to come."
You can read more about Clare's 5 Under 40 award in the St. Cloud Time article, posted on Jan. 16, 2021.
Give a little.
Get a lot.
We regularly share insights on how we approach marketing. Get on the list.